DryDock -The Best of 2022 is out now
In this yearly special Face the Facts has William Winters, Managing Director of Wärtsilä Underwater Services explaining how solve corrosion problems associated with open-loop scrubber wash water discharge systems.
In On the Line Campbell Johnston Clark (CJC) London Director Ian Short and London Trainee Solicitor Evgenia Kanellopoulou explores some of the legal and contractual issues arising from changes to MARPOL. Rajendra Singh, Business Development Manager, Guyana Port Inc looks at how Guyana Port is upgrading its ship repair facilities.
]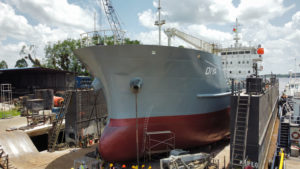 Guyana Port is investing in its ship repair facilities and plans to invest in a larger drydock (above) 
Area Review looks at the Baltic, and also features ship repair in Southern Europe and the Mediterranean.
The Spotlight is turned on cruise & ferry repairs and features the Cruise Ship Interiors Expo America, and repair work by Fincantieri, Palumbo, Remontowa, Yara Marine Technologies and Hydrex.
In Market Intelligence, Steve Gordon from Clarksons reviews market developments since the last SMM four years ago.
Analysis features a selection of underwater repairs from SeaTec, SGS and Hydrex.
Mechanical Matters looks at a speedy rudder repair on a containership carried out by MarineShaft.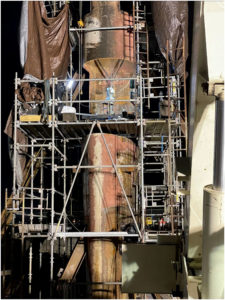 In Focus looks at how Hempaguard X7 reduces the drag on hulls and how Hempel is seeing a widening range of clients seeking its advice. Dr Dan Isaksson of I-Tech also discusses how to introduce Selektope into marine antifouling coatings and PPG looks at how to deal with aggressive fouling and extended idle days.
Worldwide features a selection of repairs from Lisnave, Navantia and Colombo.
Read it here; – DryDock magazine and why not follow Drydock magazine on LinkedIn