With a cruise sector comeback now on the horizon, shipowners are striving to ensure that their vessels are equipped for a new set of challenges. If the industry is to make a successful recovery, it will require radical rethinking across the board, says Oslo-based architecture and design firm YSA Design.
The current global health crisis has had a measurable impact on businesses in almost every domain, and those in the cruise sector have been hit harder than most. Having been brought to a complete standstill earlier this year, the industry is now making tentative steps towards its return. Yet the fallout from the coronavirus outbreak is expected to have lasting consequences, and several operators have exercised caution in pushing their restart dates back to autumn at the earliest. For all of the optimism surrounding a potential recovery, there remains doubt and uncertainty.
Accordingly, the cruise ship of the post-pandemic era will have to be flexible, states YSA Design senior architect Georg Piantino. "We all like to envisage a return to normality in which vessels are full and guests can once again enjoy the traditional cruise experience – and maybe one day that will be possible. For now, however, further outbreaks cannot be ruled out, and shipowners will want the ability to increase or decrease the capacity of interior spaces and implement or remove certain facilities depending on circumstances."
Room to spare
When cruise ships first set sail again, one of the most immediately apparent changes will be the reduced number of guests. To maximise the amount of space between passengers – or parties of passengers – and thereby cut the risk of illness spreading among them, vessels will be operating far below capacity for the foreseeable future.
YSA Design chief executive Anne Mari Gullikstad explains that this will be reflected in ship interiors. "Fewer guests means more unused space. Spare cabins will be converted into additional facilities such as medical rooms or extra accommodation for crewmembers, enabling them to maintain distance. Public areas, meanwhile, will be adapted to accommodate fewer people per square metre and to keep groups farther apart."
Ferry repairs at Remontowa
Grzegorz Landowski, Communications Director at the Remontowa Holding Group explains that, "due to restrictions all over the world, it was necessary to change the way the projects are carried out, which is constantly being done in conjunction with ship owner consultation,"
In the second quarter of this year, the Athena Seaways, Sirena Seaways, Belgia Seaways and Gothia Seaways, all Ro-Ro ferries owned by DFDS, have been drydocked at Remontowa Shiprepair Yard.
The Baie de Seine ferry is a regular visitor to Remontowa. On March 23rd this year, the ferry again entered Remontowa for the overhaul of her main engines, installation of fenders on the port and starboard sides of the ship, repair of the stern ramp, and overhaul of the stabiliser. Due to the expiry of the ship's five-year charter by Brittany Ferries, the ferry was repainted in the DFDS livery, and was returned to its previous name of Sirena Seaways.
It is worth recalling that this ferry was previously initially sailing under the name Dana Sirena. The brand new ferry was transferred from the building yard to Remontowa at the turn of 2002 and 2003 for conversion and upgrade.
A recent major works was the conversion of the two twin DFDS Ro-Ros, Belgia Seaways and Gothia Seaways. New ramps were installed on both ships, allowing Ro-Ro transfers between two decks. The first ship arrived in April and the second one in June, so both were at the shipyard at the same time for several weeks.
New thrusters for Deutschland
The double-ended ferry Deutschland, followed Schleswig-Holstein, another ferry from Scandlines into Remontowa in recent months for repairs and upgrades. The main task was to modify the scrubber system, allowing the ship to switch between operation modes – with or without scrubber. Another task was to replace the four azimuthing thrusters with new units, including a new control system. The previously installed thrusters were controlled hydraulically, and the new ones are now electrically controlled.
The ferry Princess Anastasia is a frequent guest of the Remontowa shipyard, visiting the yard for the third time within the last three years. A shaft line was installed on the ferry during this year's stay. The shaft line had previously sustained damage and was transported separately to the shipyard by land.
Stena Gothica and Stena Vinga
The Stena Gothica called at Remontowa in the second quarter of 2020 – this time for a maintenance docking, and in March, the Stena Vinga ferry arrived for class renewal repairs.
Grand Bahama Shipyard (GBS) Limited
Grand Bahama Shipyard has managed to keep operating during the Coronavirus pandemic, as Ashutosh Sinha, VP Commercial at GBS explains; "With stringent COVID-19 measures in place, providing a safe working environment for our workforce and clients, the yard has been docking ships since the 1st of June. The yard continued internal maintenance and minor repairs of the facilities during the pandemic, and has been operating at full capacity since June."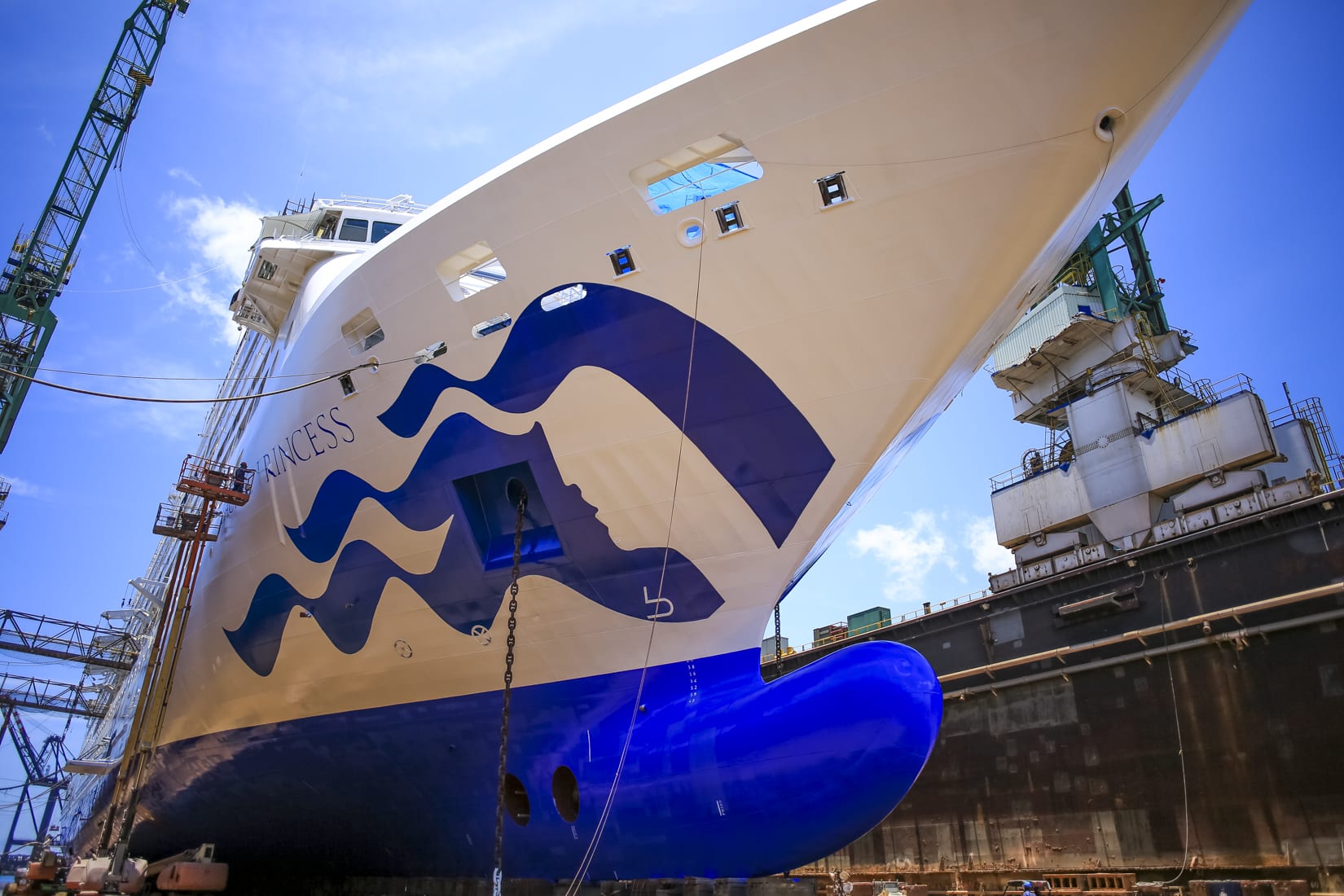 The cruise industry is likely to see a downturn, so when asked whether the yard was making any plans to change the way you operate in the future – for example, targeting different ship types, or looking to any other different revenue streams, Sinha told DryDock; "At Grand Bahama Shipyard, and with our expertise, we provide repair services to all ship types. There may be a shift in our target region as we continue to monitor how the global pandemic impact different areas."
The yard has also had to put any expansion or yard upgrade plans on hold. "Like many other companies, we had to put a hold on future expansion and yard upgrade plans," he explains.
He concludes by saying; "As the preferred yard for many clients, we would like to reiterate our commitment to supporting owners with their projects and delivering vessels on, or before time, safely and at high quality."
The cruise industry question
On 30 March, after weeks of speculation and several high-profile incidents, the cruise industry appeared to grind to a halt. Although the last ships bearing passengers wouldn't dock until 20 April the industry was, in effect, on hiatus. And, like most of the world's industry, they didn't know when they were going to be back open for business says Toby Walters, CEO of Elite Exhibitions.
The travel industry occupies a unique place in the current global crisis. As each country enacts their own series of regulations and laws intended to manage their country's infection rate, the international travel industry needs to operate within all of these requirements. And, due to the even more unique requirements of cruise – a combination of international guests, large capacities and multi-stop, sometimes multi-country itineraries – the cruise lines have a lot of moving parts to juggle.
Collaboration
It's no surprise then the cruise lines recognise that their journey to a successful reopening starts before operations kick in, at the earliest stage. Petu Kummala, Senior Director of Interior Design & Architecture, Carnival Cruise Line commented on the upcoming changes to the way cruise lines are likely to operate, saying, 'good design starts from a good plan.' Cruise interiors designers will now have to design with an increased stringent sanitisation regime in mind. The materials and designs that are specified must look fresh not only on day one, but after months and years of regular and intensive cleaning.
My Nguyen, Director Interior Design & Operations, Seabourn & Holland America Line suggests this is the perfect time for interior and hospitality suppliers to collaborate. Having an insider's knowledge of how the cruise lines will be sanitising their ships and what products they will be using to do so will lend suppliers an essential edge when designing their products. She says, 'For all of you vendors out there, if it's furniture, or surfaces or fabrics. Imagine that the protocols of how we are going to be cleaning our materials is going to be tenfold. If a chair is going to be rubbed down with an abrasive material five times a day, how is going to look like for the chair in three months?'
The industry opens again
While the customer-facing side of cruise appeared to be on hiatus, production never truly ceased. Fincantieri, one of the few shipyards to cease operation during the lockdown period, reopened in a reduced capacity in April and have safely worked their way up to full capacity. They recently launched the second of Virgin Voyages' much-discussed fleet, Valiant Lady. In June Meyer Werft recommenced their work on P&O Cruises' Iona, with the newbuild currently undergoing inspection work in Rotterdam. Meanwhile, Helsinki Shipyard operates with around 80 percent of its staff working from home, which has not stopped the steel being cut on two new luxury expedition vessels.
Certainly, the orderbook has slowed – only six newbuilds have been ordered in 2020 – but it's clear that cruise lines are seeing a way forward through this crisis. Indeed, some cruise lines are taking a cautious step towards reopening. Domestic and river cruise appear to have the first shot at restarting the industry: River cruise ship NickoVision embarked down the Rhine June 1 with a halved capacity of 110 passengers and a reworked passenger flow design including a new one-way system. Hurtigruten are the first cruise line to restart their ocean cruises, albeit one sticking to the coast of Norway. Luxury line SeaDream have since joined, and other cruise lines are likely to follow suit, albeit all sticking to a Norway-only itinerary and allowing only Scandinavian guests.
Bringing the industry back together
The conversations surrounding how to refashion the cruise industry for a post-Covid-19 world is one of the most important in the cruise community's history. From the collaboration of design and hospitality, to passenger 'bubbles' and a new approach to passenger flow, it's crucial to amplify the discussion across the supply chain.
This is exactly the purpose of Cruise Conversations, the webinar series launched by Cruise Ship Interiors Expo and Cruise Ship Hospitality Expo. Recognising the need for a clear line of communication and a tightening of the community between all parties of the supply chain, Cruise Conversations aims to be a forum for the big questions on everyone's mind. Featuring speakers from across cruise lines, outfitters, design firms and suppliers, guests will share their ideas, exchange perspectives and air everything from the unique opportunities in crisis to their own behind-the-scenes approaches to operating. Viewers are able to put their own questions to the panels and join in the conversation.
Cruise Conversations can be found by following Cruise Ship Interiors Expo on LinkedIn. Past episodes, subjects including the cruise lines' forecasts post Covid-19, getting specified and designing sustainably, can be found on YouTube on the Cruise Ship Interiors Expo channel.
Read more in the latest issue of DryDock