Top yards in Europe for cruise & ferry repairs
Cruise & ferry update
During 2020 and the first three months of this year, countries in Europe and across the rest of the world have suffered the consequences of several waves of the COVID-19 pandemic. All sectors of marine trade and shipping markets were to some extent impacted and the operations of ship repair yards were adversely affected by the spread of the disease. The cruise industry was worst hit and practically came to a complete standstill, with most of the global cruise ship fleets laid up.
To contain the spread of disease within its facilities and to protect the health and safety of all personnel, Fincantieri imposed strict measures in all its yards, including Palermo and Trieste, which are dedicated to ship repair and conversion. The Italian government also issued several decrees to safeguard the population and control the spread of the disease. Work activities were highly regulated, restrictions were imposed on the movement and travel of personnel, and regulations for social distancing, hygiene and use of personal protective equipment had to be observed.
The volume of repair and conversion projects in 2020 compared well with the previous year, mainly because work continued at Palermo shipyard on the three-ship deal signed with Windstar Cruises in 2018. This involved the lengthening and modernisation of its ships Star Breeze, Star Legend and Star Pride. Each of the projects involved four main areas of activity: extending the mid-body by 26m; replacing the main engines; upgrading the electrical generators and automation systems; and completing an extensive interior refurbishment of public areas, passenger cabins and open decks. Works began on Star Breeze in 2019 and, after successful lengthening and completion of sea trials, this ship was redelivered to Windstar during early November 2020. Star Legend was also successfully handed over to the owners in May 2021, and both Star Breeze and Star Legend remained berthed at Fincantieri's Palermo shipyard on standby for deployment. Repair and conversion work on the last of the three vessels, Star Pride, is ongoing and completion is scheduled for later this year.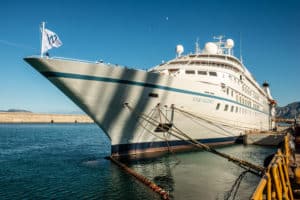 Read more in the latest issue of DryDock magazine and why not follow Drydock magazine on LinkedIn