Before the coronavirus hit, the cruise and ferry repair season was in full swing with ship repair and refit works in Damen, Navantia and Palumbo shipyards, and with outfitters Trimline, SD Marine Services and SMS.

In just five weeks over the course of November and into December, Damen Shiprepair Amsterdam completed extensive annual repair and maintenance programmes on three cruise ships ahead of their winter season. The Magellan, Marco Polo and Astor are operated by the UK's leading independent cruise line, Cruise and Maritime Voyages.
First to dock at Damen Shiprepair Amsterdam (DSAm) was the 222m, 46,000 GT Magellan for a four-week schedule of works that included comprehensive cleaning and inspections, repairs to the main and auxiliary engines, the overhaul of the bow and stern thrusters and the servicing of the liferafts. As work proceeded, additional repairs were identified, an occurrence that was shared by all three vessels. For the Magellan this involved steel repairs to a series of tanks.
Two days after the arrival of the Magellan, the 176m, 22,080 GT Marco Polo arrived alongside in dry dock no.3 for similar works that lasted three weeks. The similarly-sized Astor then took her place for nine days of maintenance that included a range of pipe renewals, repairs to the main engine intercoolers and the renewal of the stern tube seals.
The programme called for a high degree of flexibility from the team at DSAm, as the scope of the projects evolved over real time. In addition to the steel repairs, the decision was made partway through by the client to give the first two vessels a whole new exterior look to acknowledge their entry into a new market – the French cruise scene. Following a comprehensive blasting of their hulls, they each received a new, bright blue paint scheme to replace their previous white and deep blue livery as well as new logos.
"It was a busy time for everyone, and in particular for the client's project team, given that there were three vessels involved – two of them simultaneously," explains Vincent Kok, DSAm Project Manager for Magellan, "but the cooperation was excellent. The critical pathway was determined by the paint works. The painters were working right up to the end on Magellan, painting up and down the sides and the funnel, which was completely rolled.
"As is becoming the standard for these cruise vessels, we re-floated each one the day before they departed, so that we could position the lifeboats in the water along one side of each vessel," says Kok. "This process was then repeated for the other side when they were at the lay-by berths, where they were berthed prior to final departure."

Growing capacity in Navantia
2019 presented a number of interesting projects for Navantia. Up to a dozen cruise vessels were repaired at the Bay of Cadiz facilities, which included six major revitalisation projects in addition to the standard drydocking works, that incorporated hull treatment, renewal of the stern tube seals, overhaul of both stabilisers, and the overhaul of numerous valves, etc.
During the revitalisation projects, the yard also managed all of the logistical requirements of the project, including the organisation and management of unloading areas, stores, scrap and the handling of a huge volume of materials provided by the client.
Some of the vessels were repeat visitors in 2019, including Oasis of the Seas, which was originally assisted with emergency docking and repairs in April. This included dispatching a riding team and engineers to survey the vessel during the crossing, and en route to Spain. Extensive repairs were executed within a very compressed schedule and the vessel was actually returned to service in time for her next scheduled cruise. She subsequently returned to Cadiz in September for a scheduled 50-day docking and refurbishment project.

The yard says; "The perspective for 2020 looks very positive with new benchmarks to achieve, which started out in January." With projects running concurrently at two facilities in the Bay of Cadiz (Cadiz and Puerto Real), Navantia is scheduled to complete four major refurbishment projects ranging from 28 – 50 days.
Navantia's facilities in Ferrol (northwest of Spain) will be joining the cruise vessel repairs sector this year with some traditional cruise vessel projects planned.
Due to its multiple graving docks and proximity to Northwestern Europe routes, Ferrol becomes an ideal option for medium and smaller sized cruise ships, and a very viable alternative for shorter duration projects. Customers with cruise vessels running in Northern Europe now have access to the same Navantia expertise, quality and technical capabilities with one day's less deviation.


No 1 for scrubber retrofits
During the first months of 2019, Palumbo Shipyards was involved in the drydocking and/or repairs of several commercial vessels, making it a busy start to the year. Scrubber and BWM system retrofits is surely becoming a prominent ship repair yard activity, and the Group is developing unparalleled experience in such projects in Mediterranean area. "We are very pleased about Clarksons Research's studies which show Palumbo as the number one in Europe for Scrubber installations during 2019," said Andrea Sabbion, Sales Manager – Commercial Ship's Dept.
The group runs four yards focused on commercial vessel maintenance and repair; Naples (Italy), Messina (Italy), La Valletta (Malta) and Victor Lenak Rijeka (Croatia), offering specialised workshops and several drydocking solutions for up to VLCC size vessels.
Palumbo Shipyards has secured vessel repair and retrofit projects for a wide range of vessel types from various international ship owners and ship managers, including cruise vessels (Zenith, Marella Dream), RoRo Pax (Hedi Lamarr, Cruise Europa, Cruise Olbia, Cruise Smeralda and Pascal Paoli), container vessels (CC Tosca), and many others.

"Drydocking and general repairs remains our core business," explains Sabbion. "However the yard has observed a strong demand for the installation of scrubbers to comply with the new IMO regulations."
The group's Malta and Rijeka facilities have completed several scrubber installations on a series of RoRo Pax vessels belonging to Grimaldi (Minoan Lines) and Corsica Linea, with the remainder of the companies' vessels contracted throughout 2020.
The group has also kept a strong focus on the cruise vessel market, having acquired the wet dock projects for Pullmantur's Zenith and the last of the three Marella Cruises vessels, with the Marella Dream now docked at Viktor Lenac for an intensive refurbishment and steel renewal works.
"Currently docked in our Dock 6 at Malta is CMA CGM's Tosca, which at 334.07 x 42.8m is the largest vessel to dock at the yard since Palumbo took over management of the Maltese yard. She is to undergo extensive drydock works including Panama Canal retrofits works, BWTS installation, and new propeller installation."
Messina Shipyard has kept a good track record with loyal RoRo Pax owners with vessels in central/southern Italy. "They are now engaged with scrubber installations onboard Cruise Olbia and Cruise Smeralda. Naples Shipyard is busy with the repairs of Moby Lines' Moby Kiss, Tirrenia's Isola di Capraia and Montanari's tanker Valle di Granada."

Extensive refurbishment
During the 11-day refit of TUI Mein Schiff 4 in Marseille, interior outfitter Trimline was responsible for the transformation of two restaurants, a bar and a lounge.
Working closely with designers CM Design and Aisslinger, Trimline's team of experienced trade people managed to realise the client's vision with very little modifications to the original design renders.
The Café Lounge has had a full refurbishment and is now a day-to-night French Bistro venue.
The Diamant Bar also underwent a complete refurbishment and boasts an impressive new eye-catching design.
Italian speciality restaurant La Spezia and Japanese restaurant Hanami by Tim Raue had a complete remodelling to incorporate new stand out designs.
Eline Daetweiler, Senior MRO Manager, Ship Management & MRO, TUI Cruises GmbH had great praise for Trimline, saying; "We were very impressed by the great team spirit that was visible for us throughout the entire dry dock time. All technical crew were working hand in hand in a very professional way under the leadership of the on-site project management."
This refit made full use of Trimline's joinery specialists, as over 40 items of bespoke joinery were custom made and installed onboard, including a wine chiller cabinet and booth seating.

Unusual challenge
No stranger to a challenge – when Trimline was asked to source a Vespa for the 'Italian themed selfie wall' outside of the Italian restaurant La Spezia, they sourced a working Vespa, had it decommissioned, refurbished and installed in pride of place, to be enjoyed by future guests.
Trimline has also finished several other projects including works on RCCL's Freedom of the Seas, Carnival Miracle, Pacific Explorer, and completed the refurbishment on the sphinx-class cruise ship AIDAmar.


Further works
Specialist cruise liner maintenance company, SD Marine Services, has also been working on the AIDAmar.
The 71,300-tonne cruise ship has undergone a series of repairs and renovations to its public areas, spa facilities and over 180 cabins, whilst docked in Marseilles.
The project was headed up by Director of Marine Services Gareth Preston, who said on its completion: "We're delighted to be handing over the new and improved AIDAmar – it's been a pleasure to work on for these past two weeks and it's great to see the passenger cabins in pristine condition.
"We've had six cosmetic repairs and French polishing specialists onboard carrying out renovations and spraying on some amazing luxury facilities, including its 2,300m spa. The team have done a fantastic job and we're all really proud of the standard of work carried out."
SD Marine Services is a division of the SD Sealants Group. Its marine team also recently completed work on the Amera in Hamburg, a 38,768-tonne cruise liner boasting nine passenger decks and the capacity for over 800. The £30,000 project required a month-long refurbishment that involved silicone replacement inside all passenger cabins, and marked the first major project completion for SD's Marine specialists.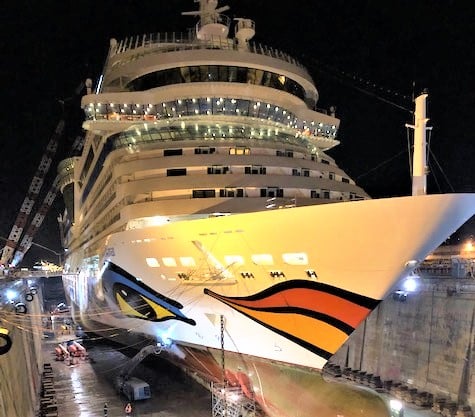 Caribbean and Canada refits
The SMS Group has completed two pieces of major interior outfit work for Holland America Line in the Caribbean and Canada.
The company has been operating a 'boutique' interior outfit division focusing on both Cruise and Commercial tonnage from 2018. This division, led by industry veteran Dan Lockyer, is thriving in the cruise space. He commented that; "the experience and expertise within my team is exceptional. Completing these first two major projects on time and on budget is a tremendous credit to both my colleagues and our customer alike."
He added: "The Noordam refit, undertaken in the Seaspan yard in Victoria, Canada, was a great success. We had over 20 men onsite, with two project managers, and completed works in 742 cabins.
"The Volendam was similar, although a slightly smaller project," he explains. "The works were undertaken in Freeport, Grand Bahamas. It featured 16 men, a project manager, and 196 suites. Both projects enjoyed several work streams."
In conclusion Lockyer said; "The refits ran like clockwork for two simple reasons, and these reasons are what sets us apart in the market. One – our ethos is one of 'ownership' and 'responsibility'. We're a small team and our project managers own the job from start to finish.
And two – we genuinely care. We're not a big corporate. We are a small, dedicated and focussed team that directly engage with, and passionately support the customer."
Ben Rowe, General Manager of SMS in Southampton, said: "The cruise space is becoming more important to SMS from an engineering perspective too.
"As a team, we specialise not only in outfit but also in the provision of structural, mechanical, electrical and hydraulic support – not only here in Southampton but internationally through the provision of riding squads. As this maritime vertical continues to grow, so too will our support infrastructure."