Sea trials of Thordon Bearings COMPAC propeller shaft have completed aboard Greenland, the world's first LNG-fuelled short-sea dry bulk vessel.
Greenland, a 5800dwt self-loading/unloading cement carrier built under the EU-TEN-T funded Pilot LNG project for the JT Cement joint venture, is the first ever LNG-fuelled dry cargo vessel in which a pressurised liquid natural gas tank is incorporated into the vessel's hull. It is also the first LNG-fuelled vessel to feature a seawater-lubricated propeller shaft bearing system.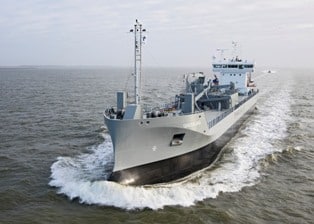 Thordon Bearings' Head of Marketing and Customer Service, Craig Carter, said: "We are immensely proud to be associated with this ground-breaking vessel. Erik Thun and its joint venture partners have created what is probably Europe's most environmentally-friendly ship. LNG as a ship's fuel is by far the most environmental-friendly fuelling solution available today which, like the use of a seawater lubricated shaft bearings, exceeds current environmental criteria."
Tommy Holmgren, Sales Director with the Duwel Group, Thordon Bearings' distributor in Sweden, said: "Erik Thun has truly raised the standard in sustainable shipping with this vessel, pushing the boundaries of environmental possibilities to a completely new level. Greenland is a fantastic reference point not only for COMPAC in the merchant ship market, but also for the development of LNG as a ship's fuel."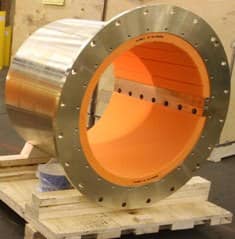 In addition to its COMPAC solution, Duwel supplied Thordon Bearings' grease-free ThorPlas-Blue range of polymer bearings for the vessel's deck winches and self-unloading equipment.
Holmgren said one of benefits of ThorPlas-Blue is the amount of time it saves ships' crew. "Crews no longer need to grease the winch bearings and since they don't wear out, maintenance is negligible, leaving the crew to get on with other jobs."
Built by Ferus Smit's Westerbroek shipyard to Lloyd's Register Ice-class 1A and suitable for year-round service in the Baltic Sea, Greenland completed sea trials, in December, prior to taking her first operational load in Rostock, Germany.