The cruise and ferry refit season has seen many yards being busy in Northern Europe of late, with more specialist works to come in the future.
Remontowa SA shipyard in Gdansk, Poland is lengthening four of Finnlines "Breeze series" of vessels to increase vessel capacity to around 1,000 lane metres. Work is scheduled to start in September 2017, with an option for two additional vessels.
The yard is committed to performing the task in less than two months for each vessel, with the whole lengthening programme to be completed in May 2018.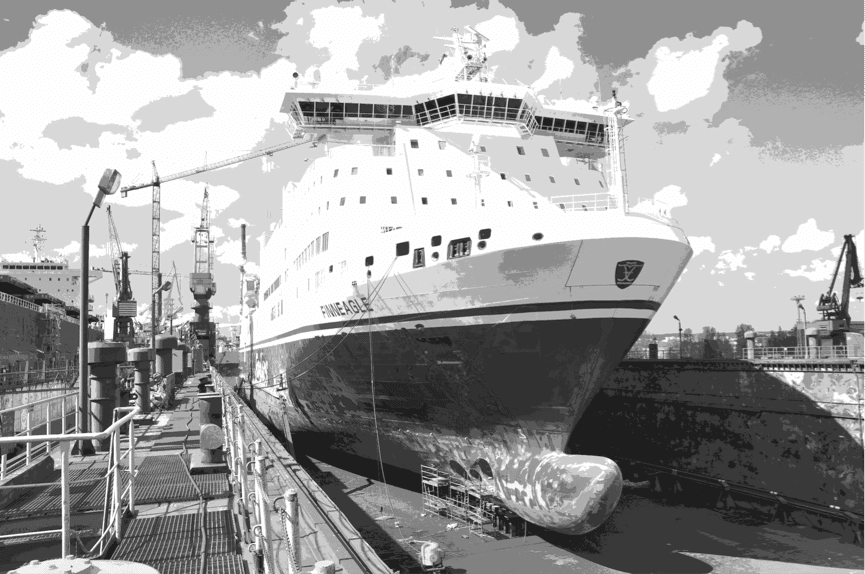 The close to 30% capacity increase will considerably reduce the energy consumption per transported unit compared with the original vessel, thus contributing to reducing emissions. Remontowa SA shipyard is also involved in several other energy efficiency projects, including Finnlines' Finneagle, which is currently in Gdansk having inline hybrid scrubbers and new improved propeller blades installed. Furthermore, passenger capacity is also being increased to 800 by building new passenger areas.
Finnlines places great emphasis on environmental and safety matters and these investments are just another milestone in a long series of investing in sustainable growth.
Remontowa SA has been cooperating with Finnlines for years. The first common projects date back to the year 2006, when the three Finnlines Ro-Ro vessels (Finnpartner, Finntrader and Finnclipper) were converted at the Gdansk based yard. Since then, a dozen or so vessels operated by Finnlines have been repaired, modified or converted at Remontowa SA, which resulted in a long-term mutually beneficial and well established cooperation between the companies.
The shipyard has vast experience in repair and conversion projects as well as special services such as Ballast Water Treatment and scrubber systems installationon-board Ro-Pax'es, Ro-Ro ships and passenger ferries. Remontowa SA has made many such vessels more energy efficient and safe for the environment, optimising hull shapes, replacing bulbous bows and even converting propulsion systems to green fuels.
Heavy lift.
During January, the shipyard docked the Petrobaltic jack-up rig using the semi-submersible heavy lift unit REM LIFT 25000. This has been the 15th offshore platform serviced at Remontowa, and the 5th rig docked on board the heavy lift unit so far.
The Petrobaltic is being converted from a drilling rig into a production unit. Upon completion, the rig will become the central production facility in the B8 field. The Petrobaltic is scheduled to remain docked on board the REM LIFT 25000 for three months.
Busy at H&W
Harland and Wolff has also had a busy first quarter of 2017, working with Stena Line to complete annual inspections and upgrade works including main engine repairs, removal and repair of rudders, blasting and painting, deck repairs, repairs to life saving equipment, and technical enhancements.
Stena Hibernia, Stena Europe, Stena Lagan and Stena Mersey have all been completed and returned to service and Stena Superfast X is currently in drydock.  It will be followed by Stena Superfast VIII and three other Stena vessels in a programme scheduled annually to ensure Stena's Irish Sea Fleet is running to optimum efficiency and offering the best possible service to customers, with minimal effect on sailing schedules.
H&W has also been busy with exports to a German windfarm project. The 56 turbine windfarm will use two types of steel foundations: suction bucket jackets and monopiles. The innovative suction bucket design consists of three legs welded together in a jacket structure, standing on top of three giant suction buckets anchoring the foundation to the seabed.
ST3 Offshore, a leading European serial manufacturer of offshore steel foundations, is to fabricate 20 suction bucket jackets for the Borkum Riffgrund 2 offshore windfarm.  As part of this agreement, H&W will manufacture and export a significant number of suction buckets – supporting up to 80 jobs in Belfast. The suction buckets manufactured by H&W will be exported from the UK to ST3's advanced serial manufacturing plant in Stettin, Poland, for fitting prior to foundation installation in the German Bight (North Sea) during 2018.
"H&W is delighted to be involved in the Borkum Riffgrund 2 project, continuing to support manufacturing jobs in Belfast and contributing to UK exports," said Jonathan Guest, Director of Business Development at Harland and Wolff. "We are committed to the retention of manufacturing skills in Northern Ireland and projects such as this enable us to both develop our in-house capability and support the local supply chain."
Important refit for Burgess Marine
March saw Britain's largest independent ship repairer and marine engineering services provider, Burgess Marine, dock an Overmarine Mangusta 165 at its refit facility in Portchester, Portsmouth. The 50m long vessel, built in 2007 and displacing approximately 300 tonnes is s powered by three 4500HP MTU diesel engines.
"This refit is very important to the team at Burgess Marine," explains Ray Cutts, Burgess Marine's Technical Director. "With both Portchester and Lowestoft capable of supporting such works, it's important that we continue to develop our presence in the yacht sector."
Burgess Marine is currently involved in numerous large yacht projects, including the refit of a 55m motor yacht in Barcelona via its sister company, Global Services. The business also supplies and supports literally 100s of vessels each and every year.
Cammell Laird's year
The ferry refit and repair season has seen Cammell Laird undertake repair and routine drydockings for a number of RoRo and RoPax customers, including P&O Ferries, Stena Line, Seatruck Ferries, Irish Ferries, the Isle of Man Steam Packet Company and Caledonian McBrayne. Ships worked on included the Clipper Ranger, Ben-My-Chree, Clansman, Finlaggen, Isle of Arran, Isle of Lewis, Loch Portain,  Lochinvar, Lord of the Isles, Isle of Inishmore, Jonathan Swift, Manannan, Norbank, Norbay,  European Endeavour,  Stena Performer, Seatruck Progress and Seatruck Pace.
Cammell Laird managing director,ic Linton Roberts said the total number of drydockings and repairs in 2016 was more than 150, while workforce numbers peaked at 1050 in full time and contractor positions, while apprentice numbers had grown by 21 to 79.
Roberts said the Caledonian MacBrayne's flagship, the 2014-built Loch Seaforth, travelled from Ullapool for an 11-day drydocking in October, followed by the Lord of the Isles and Hebridean Isles and Isle of Mull in November. A variety of other types of vessels were also accommodated, including the Afon Dyfrdwy Airbus wing carrier, in drydock in July, and the Amazone paid a visit for hopper door repairs in the same month. Meanwhile The Galileo G expedition superyacht was an exotic visitor in May.
Cammell Laird saw a quieter year in RFA work ahead of an expected upturn in 2017. Cammell Laird has a through-life support cluster contract to maintain nine of the 13 ships in the RFA flotilla. However, the yard did undertake a dry docking and maintenance period for the RFA Fort Rosalie between October and November.
Elsewhere Cammell Laird repaired Mersey Ferries' Royal Iris following a grounding at the entrance to the Manchester Ship Canal, and fellow Mersey Ferries Royal Daffodil and the dazzle-painted Snowdrop were also drydocked during the year. Meanwhile, bunker tanker Mersey Spirit, hopper barge HAM 602, jack-up Irish Sea Pioneer and tug Switzer Asgarth all visited the shipyard during 2016. The historic steam tugs Daniel Adamson and Kerne departed the shipyard in the middle of the year, both centenarians having completed comprehensive rebuilds. A new visitor to Birkenhead in November was the container vessel Rachel Borchard, docking for repairs.
Roberts said work outside standard drydockings and repairs included a contract for the manufacture and installation of 400t of steelwork to be fitted on board the A2SEA Sea Installer for its upcoming deployment works on the Burbo 2 wind farm extension. "The contract represented a significant win for the company," he said. "The project has seen the manufacture of three main structures, two of which support 12 giant wind turbine blades with the remaining structure supporting four turbine towers. A range of deck fittings have also been manufactured to enable four nacelle hubs to be transported and installed offshore. The structures were delivered in 71 days, and were fitted in a 30 day installation period, showcasing our ability to react to challenges with short lead times. It is important to emphasise our multiple manufacturing locations, which position us ideally to continue to serve the offshore wind and renewables sector."
Strengthen repair and refit activities
Last year also saw Blohm+Voss become part of the Luerssen Group. The Luerssen Group offers a sound ownership structure and is striving towards high customer satisfaction. Luerssen is planning to utilise the shipyard to strengthen its repair and refit activities for commercial ships, navy ships and yachts meaning that all previous refit and repair services, including cruise ships, will continue.
The Hamburg section of the River Elbe is a respected centre of shipbuilding excellence and the city is a perfectly placed hub for an extensive network of partners, suppliers, classification societies, technical services and specialised trades.
Last year the yard repaired, modified and maintained a large number of vessels at its Blohm+Voss shipyard in Hamburg. Among these were refits and repairs for more than half a dozen large cruise ships. In the last years, Hamburg has become a popular destination for passenger vessels and Blohm+Voss is located in the heart of the city, in close proximity to the three Hamburg cruise terminals.
The shipyard is known for high-quality project execution, reliable delivery times and high flexibility. Blohm+Voss has seven docks – three of them can simultaneously accommodate large passenger vessels, and drydock Elbe 17 at 351m long and 59m wide, is one of the largest graving docks in Europe.
Cunard's Queen Mary II was the largest cruise ship refit project undertaken in 2016. Following a year of planning, the iconic liner's most complex master refit was completed in just 21 days. The work included overhauling all four podded propulsion units and organising the logistical support for a complete interior upgrade, as well as the installation of four scrubbers for exhaust gas treatment. A key task was the almost complete renewal of the forward top deck, including the installation of 35 high luxury prefabricated cabins and the renewal and relocation of the sports court.
Another significant refit project involved Carnival's Oriana. She was with the yard for just over two weeks in December for coating works, servicing of the propulsion system, maintenance works on the bow and stern thrusters, extensive repair works on steel and pipework, and the exchange of the chiller units.
More recently Elbe Dock 17 has seen Regal Princes, belonging to the Princess Cruises fleet, in for refit.  She was in the yard for 11 days in April 2017 with an upgrade to her technology systems. Princess Cruises are rolling out a new Ocean Medallion Class to their vessels and Regal Princess is one of the first vessels to undergo the changes. It involves new technology, allowing passengers to find their way, access food and beverages, entertainment centres and more, all with a small wristband.
The yard will soon be welcoming the LNG tanker, Christophe de Margerie, into its largest drydock. She will be in for guarantee work and upgrades in her machinery rooms, the accommodation and also the ship's hull.
One of the most important factors for Blohm+Voss' customers is reliability. The majority of large ships are on a tight schedule – whether it be a passenger or a commercial vessel – every day counts. Blohm+Voss pays specific attention to detailed project planning to ensure works are completed on time, so the vessel is back in the water within the agreed time-frame without ever missing a days scheduled cruising.
The yard also sees a clear trend in new green technologies and environmentally friendly solutions, such as the installation of Ballast Water Treatment (BWT) systems or scrubbers. Blohm+Voss says it has integrated both technologies into existing vessels several times and can therefore offer customers the relevant in-house competence in this sector of the market.
All under one umbrella
German Dry Docks AG (GDD), BREDO Dockgesellschaft mbH (BREDO) and Mützelfeldwerft GmbH & Co. KG have formed a shipyard alliance under the umbrella of the German Dry Docks Group. The shipyards preserve their independence and are continuing to trade in the market under their own names.
In the future the three locations will be managed by Guido Försterling (GDD) and Dirk Harms (BREDO). The aim is to harmonise the business segments with a cross-site dock planning. Customers of all three companies will benefit from the common higher flexibility and dock capacity. The shipyard alliance is an important component in order to offer repairs in Germany at the same prices but with even more service.
"Cross-site dock planning is a key element of our strategy," says Harms. "Each shipyard has had to reject orders in the past when its own docks were occupied. Together, we are now able to offer a higher dock capacity and react directly to fluctuating workloads at the sites. The harmonisation of the processes allows us to react to customer requests in a highly flexible and cost-efficient manner. We are hereby establishing a link between the rivers Weser and Elbe."
According to Guido Försterling, both the customers as well as the shipyards with their employees benefit from the combination of the forces. "All three shipyards are specialised in ship repair with a 24/07 service and complement each other in their know-how. Thanks to the alliance, the region is closing ranks. This is also a strong signal in international competition."
Major works completed
Damen Shiprepair & Conversion (DSC) has recently completed works in Vlissingen and Brest on two major vessels in the fleet of dredging and marine construction specialist Jan de Nul Group. One of these is the Vole au vent, a 140-metre jack-up vessel built specifically for
the installation of the latest generation of offshore wind turbines. The other is the trailing suction hopper dredger Leiv Eiriksson. Both vessels are among the largest in their classes, anywhere in the world.
The jack-up vessel Vole au vent arrived at Damen Shiprepair Vlissingen (DSVI) late in 2016 having spent the summer working on the Nobelwind offshore wind farm off the coast of Belgium. She came to DSVl for modifications necessary for her second phase on the Nobelwind project; the installation of the WTG scope. These required the demobilisation of her existing equipment used for the foundation campaign and the installation of a new configuration for the WTG installation phase.
Over the course of two weeks, her 3,400m² main deck was cleared of equipment and temporary structures and restored to its clean, completely flush layout. This allows it to accommodate wind turbine installation equipment and components, towers and blades for its next deployment off the coast of Belgium. DSVl also fabricated and installed some new deck structures including grillages for the transport of the WTG towers and nacelles.
Leiv Eiriksson at Brest
Mid February saw Jan de Nul Groups' 223m trailing suction hopper dredger Leiv Eiriksson departing from Damen Shiprepair Brest after a three-week maintenance programme. This followed an 18-month assignment on a large-scale land reclamation project in Nigeria.
The works included replacement of the 1700mm discharge lines, changing the power cables for the suction arms, fresh paintwork, the assisting of specialist sub-contractors with steering gear, propulsion and thruster repairs, valve repairs and minor steel works. With a hopper volume of 46,000m³ and at 78,500dwt, the Leiv Eiriksson is one of the world's largest dredgers.
"Jan de Nul Group is a valued customer of the Damen Shipyards Group and we are delighted to have been able to deliver the services they required for these impressive vessels within the timescales required," said Carlos de Vliegere, Sales Manager at DSC.
Other recent projects for Jan de Nul Group have included works last year on the multi-purpose vessel Isaac Newton at Damen Shiprepair Vlissingen and on the trailing suction hopper dredger Taccola at Damen Shiprepair Amsterdam.
Drydock repairs at DSDu
Damen Shiprepair Dunkerque (DSDu) has also recently completed major refurbishment works to the yard's floating dry dock. The dock, capable of taking vessels up to 180m in length and lifting 14,000 tonnes, is owned by the Port of Dunkerque (Grand Port Maritime de Dunkerque – GPMD) and is operated by DSDu. It is a major piece of ship repair infrastructure and an important part of the yard's capability to repair and maintain a wide range of vessels.
The dock has recently celebrated its thirtieth anniversary, being built in Germany in 1986 and purchased by GPMD in 2001. After 30 years in service, in which the tank top had undergone only minor repairs, it was time to renew this major part of the overall structure. The contract was awarded to DSDu after a public tendering process and required the replacement of 700 tonnes of steelwork plus 16,000 metres of new welding and the application of 12 tonnes of paint.
The project also demanded a fast turnaround, with just three months available to remove the old steel, fabricate and fit the new tank top and then apply the special paint system. To prepare for that, a dedicated team of 10 engineers spent the previous four months undertaking studies and getting everything ready for work to begin as soon as the dock ceased operations. Then 170 people worked night and day to cut out and remove the old floor, prefabricate the new steel sections and then install the new structure, before finally applying the anti-corrosion treatment to guarantee optimum protection of the new structure. In addition, a new access pontoon for the dock called Dynamo was added. Originally a Damen Stan 5213 pontoon, it was adapted by the yard for its new purpose. Work on the dock began at the start of September 2016 and was completed in mid-December, just in time to receive the first ferry – P&O's European Seaway – marking the start of DSDu's annual winter refit season.
Achieving this deadline required close cooperation between DSDu's steel workers at every level and the various project partners including Quadrant Marine and NIDAB.