Retrofits are never easy, but getting them right through your selection of partners is critical to keep a vessel profitable.
Regent Seven Seas Cruises is a six-star-plus cruise line. Its vessels boast the highest standards for their guests, plus the latest in technology in every part of the ship.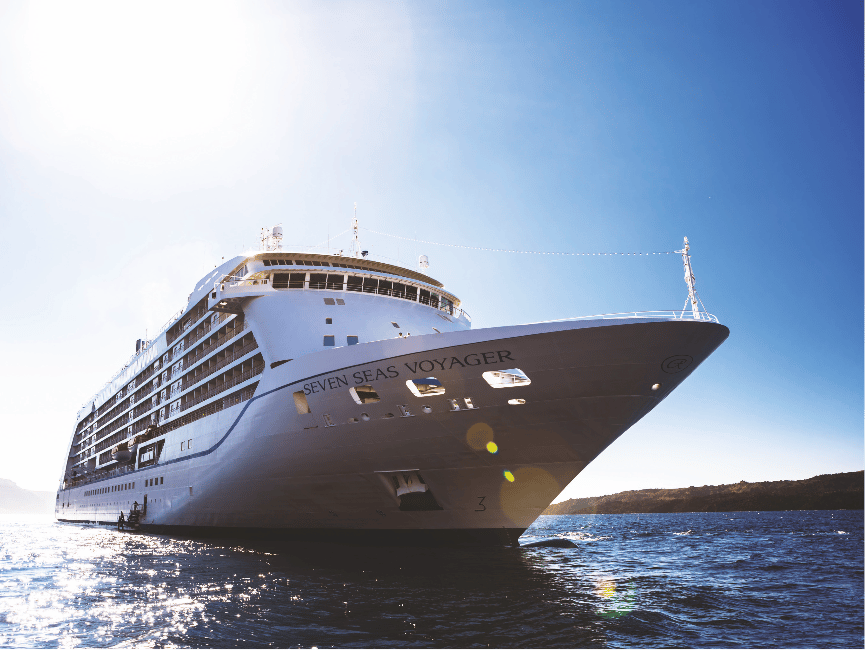 Regent's Seven Seas Voyager, launched in 2003, entered the shipyard in Marseille for a full system update in October 2016. While drydocked, the vessel was equipped with new, state-of-the-art wastewaster treatment systems from Evac.
The Evac MBR (membrane bioreactor) is an advanced wastewater treatment process that treats all wastewater streams to the same standards of land-based municipal plants. It allows vessels like Seven Seas Voyager to operate in environmentally sensitive areas such as Alaska and the Baltic Sea. All wastewater generated by passengers and crew is treated and discharged without threat to health or the environment.
The complication of retrofits
"No retrofit is ever standard," says Carlo Paiella, Regent Seven Seas Vice President, Technical Operations. "Every ship is unique and preparations are made well in advance. In this case, the planning was well done and the execution was flawless."
While Seven Seas Voyager was in drydock, two openings were cut in the hull, one starboard and one port. This enabled the MBR units to be brought as ready-assembled and tested units.
"Cutting the hull may sound dramatic, but other options are more complicated and expensive," says Ljubo Jurisevic, Managing Director of Evac Germany and President of Evac's Global Cruise Business. "The alternative was to bring all equipment such as pumps, blowers, membranes, sensors, and flat sheet stainless steel plates, down to the engine room on deck one and start the welding of the MBR tank and assembly of equipment while the ship was in operation."
Such a plan requires much more time on board for the installation crew, who would occupy cabins which are otherwise sources of revenue for the cruise line. "That's why a retrofit in drydock makes so much sense," says Jurisevic. "Long, drawn-out retrofits simply decrease the earning power of the vessel."
Everybody plays his part
According to Regent's Paiella, the vessel was in drydock for two weeks, but it only took seven days to open the hull, bring in the MBR unit, and close the hull.
"You put a schedule together and involve the yard, who provides the core assistance you need. Everybody plays his part. If any step is delayed, then a domino effect takes place, and the departure of the vessel can be delayed."
Paiella has not personally had a vessel delayed in his 30 years in the business, though he says retrofits in drydock are an intense process. "We've had close calls, and these can be of concern. It depends on the volume and per diem of a company, but with six-star-plus vessels, a few days late may mean millions in potential lost revenue."
Choosing the right team
To make sure things go off without a hitch, top cruise lines choose their partners carefully. Paiella made his choice based on a variety of factors. Primarily, because Evac systems were installed on board another Regent ship, Seven Seas Explorer, branded as the most luxurious vessel ever built.
"I saw the Evac wastewater treatment system in construction phase for Seven Seas Explorer," says Paiella. "It was sturdy, it had the features, it met the latest regulations, and the price was competitive. Evac has a strong history in this business."
Seven Seas Voyager, however, was the first retrofit that Regent had done with Evac, though they had worked before with other suppliers. "I think the way Evac does it is better," says Paiella. "The MBR comes pre-assembled on skids. It's not that difficult to put it in because it's well placed. Having done a similar retrofit before I can say Evac did it better – of course, subcontractors do the installation, but Evac's choice was a more efficient one."
Busy at Fayard
Fayard A/S is an owner-managed shipyard, founded by the Andersen family in 1916. The original name Fredericia Shipyard A/S was in 2010 changed to Fayard A/S when moving to the new and larger facilities in Munkebo, next to Odense and at the entry to the Baltic Sea in Denmark.
The yard's four graving docks have been busy so far in 2017, with the Polar Queen, GC Rieber's offshore vessel in for mobilisation, along with many local ferries in for "planned dockings and standard content," as Ivan Larsen, the yard's Sales Manager puts it. In addition to this, Peter Döhle's containership, Victoria, was in for bottom repair after grounding on the seabed on the Samso Belt, west off of Kalundborg, Denmark. The vessel was on route from Antwerp to Fredericia, but due to strong winds drifted outside the fairway and ran aground near Samso Island.
When the Danish owner Rederiet MH Simonsen decided to lengthen its ship by approximately 13m, it turned to Fayard. The 77.2 m long tanker Orasila spends its life servicing cities in Greenland.
"In order to be able to carry enough volume and products, the added space was arranged at Fayard," explain Larsen. "The tank arrangements dictated how to cut and to install the new part of the vessel. All the steel was made at Fayard.
"We also added dynamic positioning for better positioning of the vessel in port. Also, more and more of the places the vessel is delivering to are remote and do not have port facilities, so the DP system now offers better operation of the vessel and reduces the risk to the crew when operating in those places.
Tailored service
Leading Finnish shipping operator Finnlines, part of the Grimaldi Group, has placed a service order with Alfa Laval to optimise the performance of its existing Alfa Laval PureSOx scrubber systems. The Performance Agreement was tailored for Finnlines using the Alfa Laval 360° Service Portfolio, a structured selection of well-defined service offerings.
The Alfa Laval Performance Agreement with Finnlines covers PureSOx systems installed on board seven RoRo vessels: Finnpulp, Finnmill, Finnhawk, Finnkraft, Finncarrier, Finnmaster and Finnmerchant. The ships are part of the Finnlines fleet operating in the Baltic Sea, where strict SOx emissions
limits are in place due to the region's designation as an Emission Control Area (ECA). Finnlines began equipping vessels with PureSOx in 2014, in preparation for the implementation of ECA limits in 2015.
"As one of the most complete and proven SOx scrubber platforms on the market, PureSOx was an obvious choice for us," says Juha Ahia, Manager for Newbuildings & Projects at Finnlines. "But Alfa Laval is more than an equipment supplier. In Alfa Laval, we have a reliable partner who can make sure our vessels are always in compliance and that we get the most out of our investment."
Peace of mind
Finnlines signed the six-year Performance Agreement with Alfa Laval in order to maintain the consistent performance of its PureSOx systems. The service plan includes yearly condition audits, which help ensure correct operation and provide insights into the state of the equipment. These insights will allow any issues to be addressed before they can lead to unplanned shutdowns.
Additionally, Finnlines selected options that will simplify parts management, such as an exchange programme for PAH and turbidity sensors. Vital for proving compliance, these sensors will be exchanged every two years and replaced in the event of a failure. Furthermore, Alfa Laval technicians will track the parts consumption of the Finnlines vessels and provide strategic planning for their spare parts supply.
Tailored for the customer
The services for Finnlines were chosen from a structured selection of service options, designed for easy customisation. The Alfa Laval 360° Service Portfolio addresses every phase of the equipment life cycle, with services for start-up, maintenance, support, improvements and monitoring.
"The Alfa Laval 360° Service Portfolio is a clear yet flexible approach to service," says Teun Nikkelen, International Customer Support for Alfa Laval PureSOx. "Working closely with Finnlines, we defined an agreement that would deepen our partnership and secure reliable equipment performance at the lowest total cost of ownership."
Idle vessel services
ABB's marine and ports business is partnering with Presserv to offer maintenance packages for vessels that serve the oil and gas industry that are laid-up for prolonged periods.
The two companies will combine specialised services to enable the preservation of equipment onboard, which will eventually allow the smooth and timely resumption of service. As part of the cooperation, ABB will utilise its Remote Diagnostic Service (RDS) to provide key data to optimise the care packages.
"It is a sign of the times that there is a strong demand for these services, but we are always responsive to what our customers require," said Pål Nikolaysen, Head of the Offshore Service at ABB's marine and ports business unit. "Stacking is a special situation where expert advice and understanding of preservation is needed in order not to jeopardise the equipment and we are looking forward to collaborating with Presserv, which has a very good track-record in preservation."
Presserv is a specialised maintenance firm operating in the offshore oil and gas industry, offering the complete preservation of entire rigs and drill ships. The agreement means that ABB will maintain the onboard electrical systems on future projects, in effect giving the vessel owner a turnkey solution. Where it is available, ABB's RDS will provide real time data on important factors like temperature and humidity to enable the upkeep of equipment. ABB's Integrated Operations Centres will also monitor data produced by onboard equipment to anticipate any problems and to enable the swiftest and most efficient resumption of service.
ABB already offers its Stacking Care programme that has seen significant uptake around the globe, with a large number of drill ships in Korean shipyards utilising the solution. Currently O&G vessels that are out of service can be warm stacked (ready to use but idle) whilst vessels that face longer term layoffs can be cold stacked (shutdown and stored).
"To team up with ABB with such a strong name in the electrification and automation side means that we can truly provide turn-key solutions for the customers," says Kristian Høvring , Business Line Manager at Presserv.