Burgess Marine is the UK's largest independent ship repairer; the company is at the forefront of the specialised marine engineering industry, having earned a worldwide reputation as experts in all aspects of structural repairs and renewals, as well as mechanical repairs, both above and below the waterline.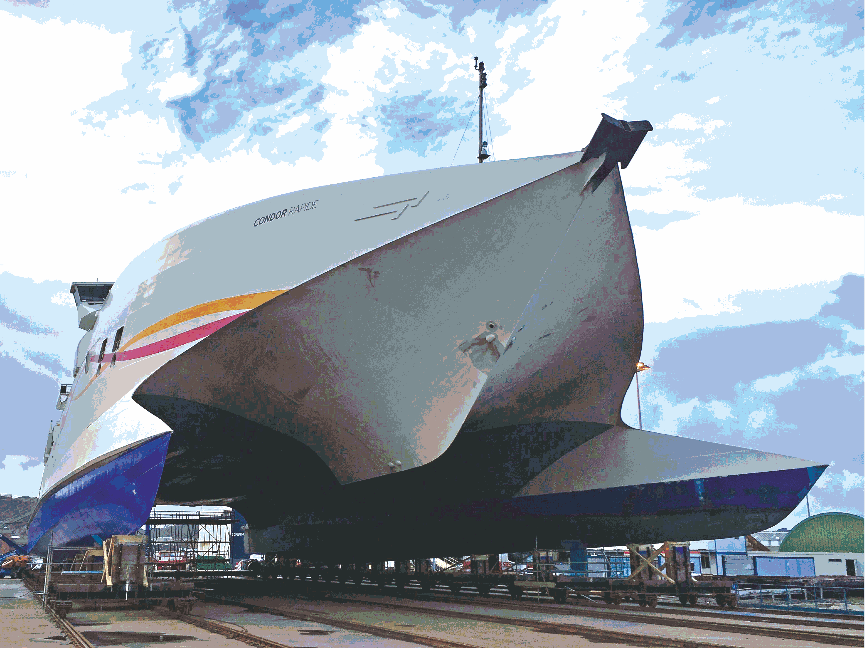 An impressive 50% of the groups £40m turnover comes from ship repair; and that's principally from the nine locations in the UK – with offices and workshops from Lowestoft to Devonport. The 'jewels in the crown' are the 75m dry dock in Lowestoft, the 1000T ship lift in Portchester and the 5000T ship lift in Cherbourg.

An introduction from the Managing Director of Burgess Marine
Nicholas Warren: "I am an experienced Chief Executive Officer / Managing Director, Company Director and NED. In the last 10 years, I have led the growth of Burgess Marine from a single site sub £1m GBP per annum turnover, Dover centric ship repairer, into a large independent ship repairer and marine services company with annual revenues in excess of £40m GBP.
"The growth that Burgess Marine has enjoyed has come from a dual strategy of targeted organic growth and M&A activity. I have led five acquisition processes from 'cradle to grave', including operational integration, and successfully completed one management buyout.
"Burgess Marine works internationally across three principal sectors; commercial marine, defence and superyachts. We've specific experience in the Middle East, both the fast ferry sector and the defence sector.
As CEO, I oversee the running of Burgess Marine Ltd, Meercat Workboats Ltd, Global Services Europe Ltd, Global Newbuilds Ltd, and Trafalgar Yacht Management Ltd, and I am a shareholding NED of Yospace Technologies Ltd. I am highly self-motivated, very well connected, and passionate about marine engineering and the maritime industry, not only in the UK and Europe, but also globally. 
I am a Freeman of the City of London and Liveryman of the Worshipful Company of Shipwrights.
"On a personal note, I am a keen skier, game shooter and recreational diver. I am married with two children; both boys – Henry aged eight and William aged four.
Q & A with Nicholas – The International Maritime Businessman
Q. What proportion of your business is ship repair and what proportion is other work?
A. Roughly 50% of the Groups £40m turnover comes from ship repair; and that's principally from our nine locations in the UK – we've offices and workshops from Lowestoft to Devonport. The 'jewels in the crown' are the 75m dry dock in Lowestoft, the 1000T ship lift in Portchester and the 5000T ship lift in Cherbourg. We also carry out numerous major marine civil projects each year. These could include significant infrastructure works in Ports such as Ramsgate, or the fabrication of major pontoons and brows for the Thames. The rest of the business comes from out our two sister companies, Meercat Workboats and Global Services.
Meercat Workboats specialises in building highly versatile shallow draft workboats up to 22m in length; we've invested heavily in a new site in Hythe on Southampton Water, and thankfully the business is growing nicely into the footprint. We've signed three new orders this year, and we've extended the project range significantly.
Global Services is a specialist supply business that supports both the superyacht industry and the cruise sector; the global superyacht fleet is supported by a team of 30 based in Exeter, and the cruise sector by a team of seven based in Southampton. Collectively, that part of the business supports over 1000 vessels per annum, and specialises in offering both exceptional value for money and great custom care.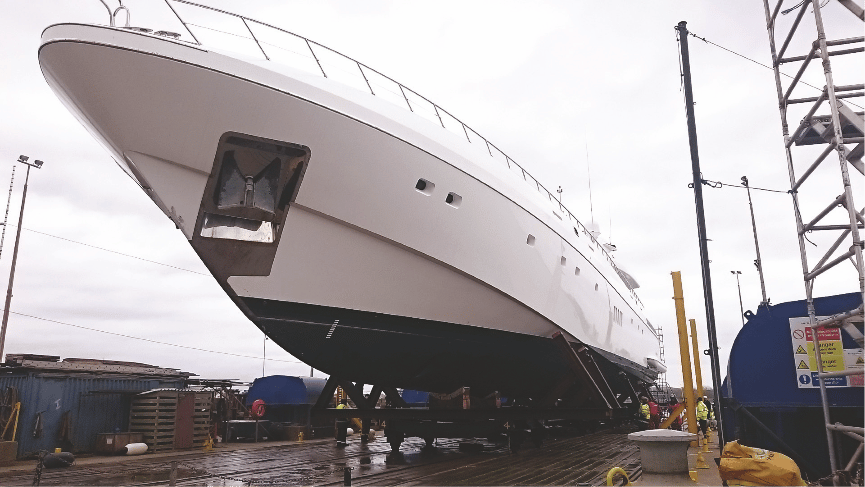 Q. You recently completed ferry works in Cherbourg, is this likely to be a one-off, or a regular occurrence?
A. We have used Cherbourg for very many years to support our customer base. The site is principally geared towards support for big high-speed craft, with the likes of Condor Ferries and Brittany Ferries historically using the footprint. We've also docked the Wightlink fleet and a few superyachts in Cherbourg – most notably MY Shemara for her first annual docking post its refit in Portchester.
Q. Do you have plans for to adopt this type of arrangement in any other foreign ports?
A. We already work along these lines in other foreign ports. We've just finished a significant docking for Babcock in Malta, and we have a permanent presence in Mallorca at STP Palma. Our principal objective with regard to international work is the support of our existing customers – in summary, we'll go where that work is, and our guys are happy to operate on that basis.
Q. Do you have any other expansion plans?
A. Whilst our objective to grow the business geographically remains unchanged, I think you'll see a period of consolidation and integration in the coming 12 months. Having acquired Global, we need to maximise that opportunity. The logic behind the transaction was three-fold; we wanted a home for our existing cruise-centric marine procurement revenue, we wanted the opportunity to cross-sell our engineering expertise into the superyacht sector and we wanted the opportunity to win more superyacht refit work for our centres in Portchester, Lowestoft, Cherbourg and Palma.
To achieve those objectives we've plenty of work to do – and that'll be our focus in the coming weeks and months. We'd also like to expand our service offering internally too; many of our clients only use some of the selected services that we offer and not the full spectrum of our offering. Can we sell more diving, more marine electrical, more mechanical services – can we sell procurement; can we cross-sell workboats and port / infrastructure maintenance? Rather than geographical expansion, we'll be putting the customer first and focus on expanding of our service offering.
Q. Are you looking to diversify into any other markets?
A. We broadly articulate our markets as Commercial Marine, Defence, and Superyachts. Our focus will be on the expansion of the Commercial Marine sector. We're doing more and more marine civil works for support in ports and harbours as principle contractors, and we see further growth in this space – as well as increased activity in the fabrication sector. We're looking at more pontoons and houseboats with plenty of opportunities developing in this area.
Q. What do you regard as your yard's main (ship repair) strengths?
A. The biggest strength in our business is our people. We've a focused, capable and accomplished workforce, supported by experienced and committed management. An extension of this philosophy is a commitment to flexibility – our men and managers work locally, nationally and internationally to support our customer base. We try to put the customer at the centre of all our endeavours, and we are very committed to meeting their aspirations. I think it's also worth mentioning that our clients are also one of our greatest strengths – ship repair is very competitive and the loyalty of our customers allows our yards to survive in the leaner times too; we really do appreciate every bit of business we get.
Q. Who do you regard as your main competitors and why?
A. Each of our businesses, and each of our geographical locations, endures competition; that's life. We focus on our own business and our own customers – it's easy to obsess about competition, but across our business I encourage a positive outlook, a positive mentality and a focus on our 'own' and on what we do. I genuinely believe that across the group, we've got some of the best guys in the business; we need to worry about our own company rather than others.
Q. Have you seen increased activity in the number of enquiries/ orders for the fitting of ballast water treatment systems and scrubbers?
A. Yes and no. We've seen increased interest in Ballast Water Treatment Systems, but not much activity in the retrofit space. With regards to scrubbers, we actually manufacture scrubbing units for a major provider, and we've definitely seen an uptake in this space.
Q. How do you see the future in terms of ship repair activity, both for your yard, and in more general terms for yards in the region?
A. Ship repair continues to be a hugely competitive marketplace, with increased pressure in the industry derived from historically low oil and gas prices. Yards and fabricators alike are keenly pricing work to fill the hole left by the downturn. I can't see this changing in the short-term. Closer to home, all of our markets and geographical regions remain competitive, and simply put, we must strive to be the best at what we do.
Q. Is there anything you would like to add?
A. All I'd like to add is a 'thank you'; very rarely do you get the opportunity to go on the record and formally thank not only the dedicated team that work across the business, but also the customer base that keeps us all employed. I'm extremely grateful to all of my colleagues for their team efforts and support, and I'm equally grateful to all the customers that keep trusting us and supporting us – thank you.
A real insight into the man behind the works of Burgess Marine Ltd. If you enjoyed reading this article, then please subscribe to our ship repair magazine for more insightful articles from the ship repair and drydock industry.