The Emma Mærsk, one of Maersk Line's longest container vessels, has recently departed from Damen Shiprepair Brest (DSBr) following drydock services, a Special Survey and maintenance works.
DSBr, in Brest, Northern France, is conveniently positioned along Emma Mærsk's regular voyage between Northern Europe and the Far East via the English Channel and the Suez Canal. It is one of the few yards in the Northern European region that has drydocks with dimensions sufficiently large to accommodate ships the size of Emma Maersk. Its largest dry dock, measuring 420 metres in length, 80 metres in breadth and with ample water depth above the blocks, allows the shipyard to drydock containerships on their westbound or eastbound routes.
The Emma Mærsk completed her second Special Survey plus assorted maintenance works at the shipyard, including the removal and subsequent refit of the propeller, which is amongst the heaviest in the world. Other works included the inspection of the boiler valves, ship side valves, inspection of the anchor and chains, and a complete wash down of the antifouling area, a total of 24,850 m², the equivalent of more than three football pitches.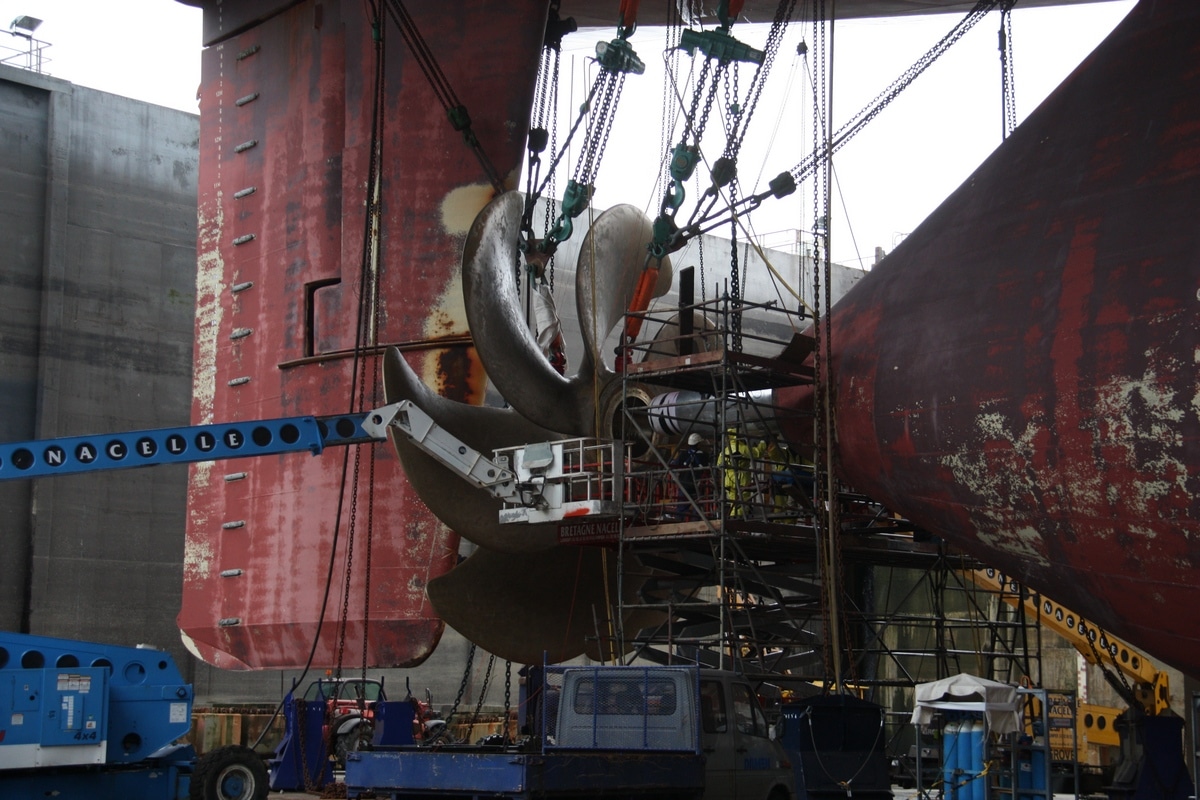 "It's been a privilege to work on such a ground-breaking vessel and great to see our largest dock accommodating a ship of her size," said Boudewijn Baan, Sales Manager at Damen Shiprepair & Conversion."
"We are proud to be selected by such a global customer", said Robert Diepenbroek, Managing Director at Damen Shiprepair Brest. "The shipyard was originally built to service the largest LNG, seagoing and cruise vessels. Recently cruise vessel Norwegian Epic completed her first retrofit here within three weeks, and the works on the Emma Mærsk mark another milestone in building ship owners' trust in our company". The Emma Mærsk departed from Damen Shiprepair Brest on 29th February 2016.