Comprehensive megayacht electrical installation
Alewijnse has finalised the complete electrical systems integration for Oceanco's latest project, the comprehensive recreation of a 105-metre egayacht, codenamed '1050H', that included a ten-metre extension. Over the course of 18 months, and as part of a transformation widely to be considered unprecedented in its scale and nature, Alewijnse installed an almost completely new electrical installation. This included building and fitting the switchboards and a shore power conversion system as well as the alarm and monitoring systems, and lighting for both the interior and exterior. It was also responsible for the key engineering, installation, integration and commissioning phases, covering both cabling and equipment.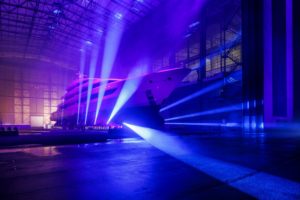 The project had many challenges, not least the fact that Alewijnse took over the contract from a previous supplier. This required an appraisal of the works done so far to confirm that the project strategy would meet the needs of Oceanco and its client.
Fit for any refit
"This project was more like a new build than a refit, in terms of its size and complexity," says Alewijnse Project Manager Casey Anderson. "Almost all the electrical systems onboard needed to be replaced and we rerouted the majority of the cabling. The schedules were fast-paced but, thanks to good communications between everyone involved, we had a successful outcome. Fit for any refit, Alewijnse has the capabilities to adapt to the challenges of any type of rebuild that is put to us. The teamwork with Oceanco was also really good and played a major role in the success of what was a large and complex project."
Trusted partner
Oceanco's CEO Marcel Onkenhout comments: "This project called for passion, dedication, and extraordinary craftsmanship. The strong relationships that Oceanco has built with our trusted partners and suppliers is key to the success of such a complex endeavour. We are thankful for the positive energy, proactive attitude and enthusiasm that was brought to the recreation of 1050H by the whole Alewijnse team."
Alewijnse has been an important partner for leading yacht builders and refit yards for many years, both in the Netherlands and beyond. Its involvement in projects covers every stage of the yacht lifecycle, from new builds to refits, maintenance and after-sales. Its capabilities encompass electrical installation, system integration and the automation of systems for power generation and distribution, propulsion, navigation and communication, audio/video, IT, entertainment, lighting, and security.
The result is unrivalled electrical and automation expertise on all types of motor and sailing yachts up to 120 metres in length.