The latest issue of DryDock is available now
In this bumper issue, in Face the Facts Robert Taylor, Principal Engineer – Shipyard Solutions, Bardex Corporation takes a look at why in the past four years, at least four vessels have capsized during drydocking operations 
in On the Line, we hear how with vessel efficiency front and centre following the IMO's recent MEPC 80 session, ship owners and managers are turning to Rotor Sails during scheduled berth and drydocking to reduce their emissions and fuel consumption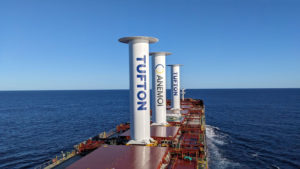 The Spotlight in this issue is turned on the EU-Interreg North Sea Region project 'WASP: Wind Assisted Ship Propulsion', which may have concluded but installations on cargo vessels, RoRos, tankers and bulk carriers abound
Area Review is focussed on selected repairs in the Mediterranean and Black Sea and how HEMEXPO President Eleni Polychronopoulou believes the reopening of Greek shipyards will help the European maritime technology sector to strengthen its position on the global market.
Steve Gordon, Global Head of Clarksons Research, summarises the last six months, along with an update of ship repair data points from Clarksons World Fleet Register in Market Intelligence.
In a Cruise & Ferry Update we hear from Fabiana Vale Dornelas, Senior Interior Architect and Head of Sustainability & Implementation, YSA Design on the refurbishment of the Trollfjord, along with a rebranding project, a landmark refurbishment and a ferry genset overhaul.
In Mechanical Matters we feature a multi-vessel dynamic positioning upgrade, superyacht propulsion retrofits, and new portable 3D scanning equipment for MarineShaft.
Analysis takes a look at some of the technologies needed to achieve net zero by 2050.
In Focus features clean tech laser cleaning, the repainting of an icebreaker and hospital ship protection
Worldwide takes a look at a surge in demand at ASRY, firsts at BLRT, a mixed bag for Remontowa, an offshore wind project for Mammoet and a selection of underwater repairs.
News featues the latest products, appointments and repair news