Nelson's flagship – HMS Victory is best known for her role in the Battle of Trafalgar. However, she currently has a dual role as the Flagship of the First Sea Lord and as a living museum to the Georgian Navy.
On assuming custodianship of Victory in March 2012, the National Museum of the Royal Navy resolved to approach the ship's conservation in accordance with the guidelines set out in UK National Historic Ships' publication 'Conserving Historic Vessels'. These guidelines call for a sequential approach: stabilise the ship, improve understanding, assess and document the ship's significance, plan the conservation project and then execute that plan.
"The transfer makes a difference because the National Museum is in the job of looking after artefacts, and Victory is just another artefact," declares Andrew Baines, Curator & Project Director – HMS Victory, National Museum of the Royal Navy. "She is a very big one, and a very complex one, but she is a museum artefact. We have the experience, expertise and resources and understanding to place conservation at the heart of the approach to Victory."
Previous works carried out on the ship were more akin to maintenance and repair, and really very similar to what she would have experienced 150-200 years ago. Now it is something closer to the way a historic building or national trust property would be approached. "We do as little as possible, but as much as is necessary," says Baines. "There is a fine line that you have to tread to protect your asset and make sure that it is safe and looked after, but not do so much that you end up with a replica ship."
Original methods
"In terms of stabilisation, the first thing we did was try to stop the water getting in," he states. "We have caulked the weather decks from bow to stern – the only deck that we haven't treated yet is the poop deck. That has cost around £600, 000 over the last two years. We have also done some fairly simple stuff, such as filling and painting the seams on the hull, with the hull completely repainted last year. We have also painted the upper decks and been tracking down where water penetrates into the ship, and stopping it getting any further."
He told Protective Coatings Expert; "we are trying to carry out works in the original manner. In 2005 they used a modern boat calking, which is very good if you have a superyacht, but it is no good at all on the decks of HMS Victory. So we have gone back to a traditional caulking technology which involves caulking the seams with oakum and then hemp and pitch, or in our case Jeffery's Marine Glue, with a few additives."
The forecastle deck was the first area to be re-caulked. "We asked for it to be done while the ship was still with the MOD," says Baines. "We decided on trial caulking of just the forecastle deck because it is very expensive. We also wanted to make sure the techniques worked, and it had demonstrable long life. So in 2012 we began, and we immediately ran into a number of problems. The first thing that we found was that the galvanised steel fixings had been damaged when being fitted, causing corrosion which was bad for the teak. This meant we had to replace 973 fixings on this deck alone. We re-caulked and re-fixed, and all the hatch coverings had to be renewed, so we ended up with a significant increase in cost. However, we were able to take the lessons learned onto the quarter deck, which ran to time and to budget, even though it was a much larger scale project." Although the ideal time to carry out these works would be in the winter when visitor numbers are low, you can't because the weather is not conducive. "What you have to do is make the work part of the visit – it is all about telling a story," he explains. "Although we had containment – we had windows in it – and we had workmen here who would talk about what they were doing."
When it comes to the hull planking, it is not possible to use a traditional caulking technique. "Pretty much all the hull planking is rotten," he confides. "We have a nice veneer of teak, but at the back of that it is so rotten that you can push your finger through it in places. So we have got to find a way of getting that very thin veneer as weather tight as possible to stop the rainwater being driven into the ship while we work on our plans to repair it."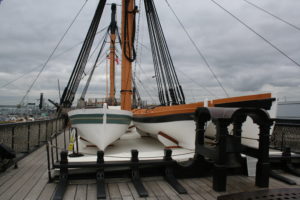 Current paint scheme
Baines told Protective Coatings Expert; "the current paint scheme has been adapted over the past 40 years or so, and we use paints that were specially formulated for us by Leighs [now owned by Sherwin Williams]. We will be looking at the different technologies we are using because nothing stands still. After 20 years it may be that there are new options available – we are not wedded to anything. From the point of view of the public, as long as she looks the same, they're happy.
The priority is protection against the weather, and she is a timber structure so she is going to move. People have suggested using the fantastic paints developed for the North Sea oil industry, but they don't have the seams we do, and you don't get expansion anything like we get with changing humidity and temperature. The paint coatings from the mast to the keel are very important to us and are one of the planning options that we are going to be looking at over the next 12 to 14 months."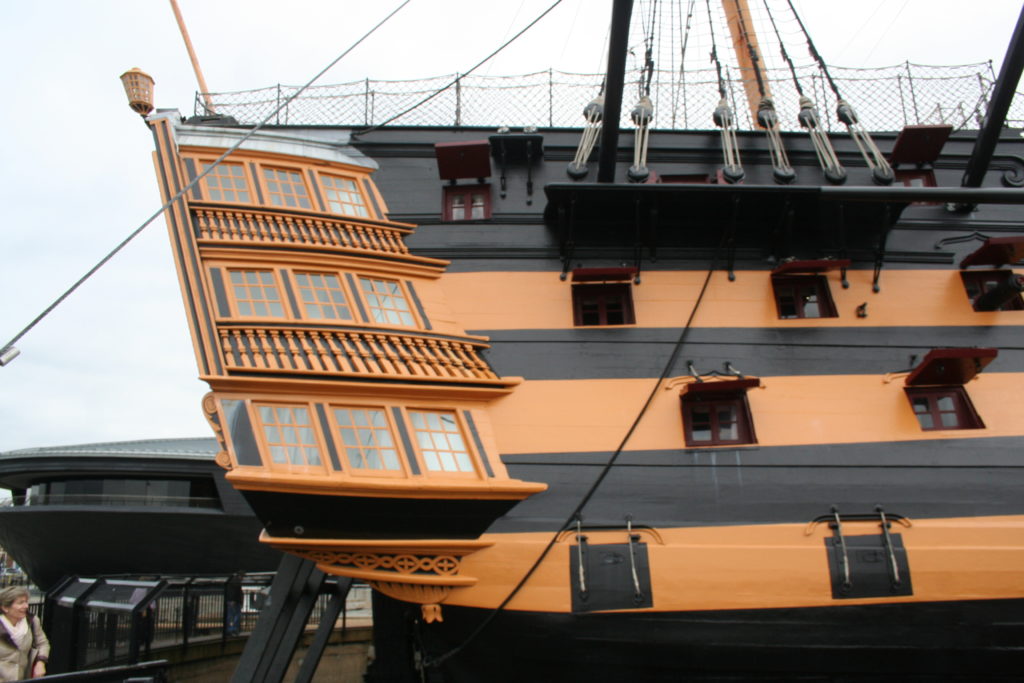 Unlike the heritage building sector, they are not trying to continue to use traditional paints.  "We are very nearly a marine environment," he explains. "On a heritage building if you want to paint the window frames every two years, it is expensive, but you can do it. For us, we have a huge surface area, and if we have any flaw in any part, it will let water into the ship, which threatens the whole of the ship structure.
So we will seek to keep the appearance, but we are not wedded to lead based paints. We certainly have the old recipes and could make up the paints, but what you have to bear in mind is that there were 821 men onboard Victory when she was in service. You could tangle a plank over the ship's side with a couple of guys left painting sat on it.
He declares; "the cost here is not the material, it is the cost of the labour required to undertake that painting. At the moment we are working on painting the hull every two years. We started in June last year (2013), so we are coming up to nine months now, which is almost half way through its life. It is bearing up reasonably well – we are just due to clean it down, as you do get a little bit of algae growth in the winter – but it has borne up pretty well considering the substrate is quite wet."
Lead problem
One problem they do have with Victory is that of the quantity of lead within the paint previously used on the deckhead. "The person that analysed it said it is about a thousand times above what would be described as dangerous now," confides Baines. "As long as you don't disturb it, you are fine, but it does create problems for us when it comes to painting. We have been told it would cost about £100,000 to paint the deckhead on just this level. We really cannot justify the cost from a purely aesthetic point of view, which is why bare patches are visible as you walk around. In the first year we spent £800,000, and last year we spent £1.8 million, so we have ramped up as we have improved our understanding. We have no hesitation in spending money where it is required, but at the same time we are a charity, so we have to ensure:-
(a) That we squeeze every inch of value out of each and every penny available to spend, and
(b) You target it where most appropriate.
To remove the lead paint you would have to tent the area and hermetically seal, including airlocks – the whole works – and that is extremely expensive. Unfortunately, we haven't had a paint supplier come along and say; wouldn't that be good PR for us – we'll do it for free!"
Another problem area is associated with the use of varnish. "The problem you have with varnish, and the reason it is not used at sea, is it degrades quickly and is impossible to maintain. We had panels made from various timbers of various ages. Everything we tried to apply reacted badly with what was underneath, so we had to strip them and then try to colour match them. We were looking at a cost of about £30,000. To do that when you know it is not an authentic finish anyway was ridiculous, so we went back to the traditional paint finish, and these have just been completed."
One thing is sure, there is plenty of work left to do on Victory , which is likely to keep the National Museum of the Royal Navy busy for many years to come.
If you enjoyed this article why not check out the latest issue of DryDock magazine