SMM Exclusive Wärtsilä Underwater Services interview
'Pipe-in-pipe' scrubber solution
Wärtsilä Corporation and Danish ship operator A.P. Moller – Maersk have provided a means for preventing corrosion in scrubber discharge pipes. The permanent in-pipe solution is designed to solve corrosion problems associated with open-loop scrubber wash water discharge, explains William Winters, Managing Director of Wärtsilä Underwater Services.
Wärtsilä acquired Trident, now Wärtsilä Underwater Services in 2018, expanding its service capabilities to offer innovative underwater solutions.
The majority of the estimated 5,000 scrubber systems installed across the global fleet are of open-loop configuration. With this system, seawater is used to scrub SOx from the exhaust gas, with the used water then being discharged back to the sea after cleaning.
Under IMO guidelines, the wash water from exhaust gas cleaning systems, commonly referred to as scrubbers, should have a pH of no less than 6.5. However, in reality the pH of scrubber wash water is typically acidic, prior to being diluted by seawater. This creates the risk of structural corrosion to the discharge pipes. 
The risk is particularly high for pipes made of mild steel. In some cases, if the discharge pipes are inadequately protected, severe corrosion can damage the surrounding mild steel hull plates, resulting in water ingress.
The new 'pipe-in-pipe' solution allows for the original overboard pipe to remain in situ while a new glass-reinforced epoxy (GRE) pipe is inserted into it. No metal cutting or welding is necessary. A stainless steel sleeve is inserted between the new GRE pipe and the existing steel pipe. An adhesive permanently secures the GRE pipe in place. Since this 'pipe-in-pipe' solution has a small impact on the internal diameter of the pipe, it is best suited for overboard pipes with a diameter greater than 300mm.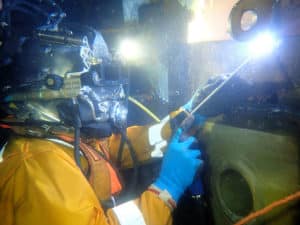 Q. How long has this been in development?
A. We started by developing scrubber overboard repair solutions in general. We've probably been doing that for a good 10 years – initially more on cruiseships. We actually filed the first patent back in 2018, which we started working on in 2017, and it was for a solution with a stainless steel insert.
Q. Did Maersk approach you or did you approach them?
A. We are a steady supplier for them for all sorts of water husbandry and repair business. So obviously, when situations like these come about, discussions get started and you try to find solutions – that's what we do.
Q. What part of the solution is actually patented, and do you think you'll be able to stop companies coming up with their own solutions?
A. I don't think it will stop companies from making their own solutions, but I think we have a strong package in terms of scrubber repairs. We have the track record and I'm quite comfortable that we can provide a good solution for our customers.
Q. How many pipe-in-pipe fitments have you already carried out and on what type of ships?
A. To date it is 42, but not all of them were done afloat because this is a service we're going offering in both drydock and afloat. I would say that 95% of these to date have probably been done on containerships.
Q. Who is actually making the pipes – is that something you do within your company, or is it something that you farm out?
A. That's something we farm out. We have a range of suppliers to make sure that we keep our options open. The actual process of making that particular fibreglass part is not overly complicated, so we can have multiple suppliers.
Q. What is the purpose of the sleeve?
A. The main purpose of the sleeve is to protect and isolate the flange from the pipe. It is made from the same SMO material as the scrubbers are made of.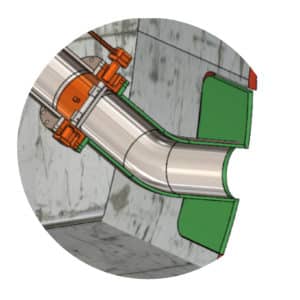 Prefabricated inserts
Q. Do you expect the pipe-in-pipe solution to last the life of the ship?
A. Yes, we do. The Wärtsilä/Maersk solution is intended for long-term protection. It reduces complications associated with welding work required on pipes and sometimes hull plates, particularly in underwater repair situations.
Q. What capacity do you already have and how quickly can you ramp this up to meet any future demand?
A. A very good question. I think the most critical part is the availability of the SMO [Alloy 254 SMO tubing – a high-alloy austenitic stainless steel designed for maximum resistance to pitting and crevice corrosion], but we try to keep our options open. Several suppliers that we trust have the capability to supply it, so I think it can be ramped up quickly if demand increases.
Q. Do you have the divers needed to carry out the installations?
A. The installations are a carried out in a combination of afloat and drydock work. The diving part of an afloat installation is maybe 20% of the entire scope. Our own people are also doing the internal work, so I think we can ramp up quickly. It doesn't necessarily mean we will have to have multiple dive teams all the time.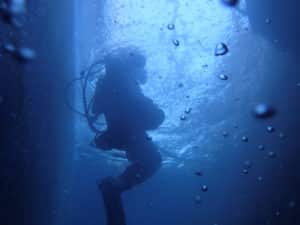 Q. What size of scrubber pipes do you cover?
A. There's a big variety here; I think for this particular solution we have done from 350mm up to 700mm. It is not an issue to go bigger, but if you go smaller we start getting an issue with the diameter reduction. So, that would require a discussion with class and the owner.
Q. Presumably, a large part of the cost is actually the replacement, not the materials involved, so why wouldn't owners go for the pipe-in-pipe solution?
A. Each case is different. For example, we specialise in propeller repairs. We have always had the propulsion background from Wärtsilä, even before they acquired Trident in 2018, the former name for Wärtsilä Underwater Services. That includes propeller straightening, balancing and hydrodynamic offloading, but each case is different. It depends on the urgency, type of the propeller, what is in their plans and how much money they want to spend. There are so many factors involved, and it is the same for this. I think we now have a good range of solutions to basically address any of those types of issues.