With dwindling margins, overcapacity and idling ships plaguing the industry, MacGregor believes that there is no better time to ensure that a vessel's cargo system is able to carry all the available containerised trade that it can.
Declining revenues, plummeting freight rates and volatile market conditions pose many challenges for today's operators. Combined with a predicted rise in bunker prices, things do not look much rosier on the horizon.
As a result, overcapacity and idling ships continue to plague the industry; a statement supported by numerous market analysts. To give one example, according to Alphaliner, at the beginning of March 2016 there were 352 unemployed ships of sizes above 500 TEU, which equated to a combined capacity of 1.57 million TEUs.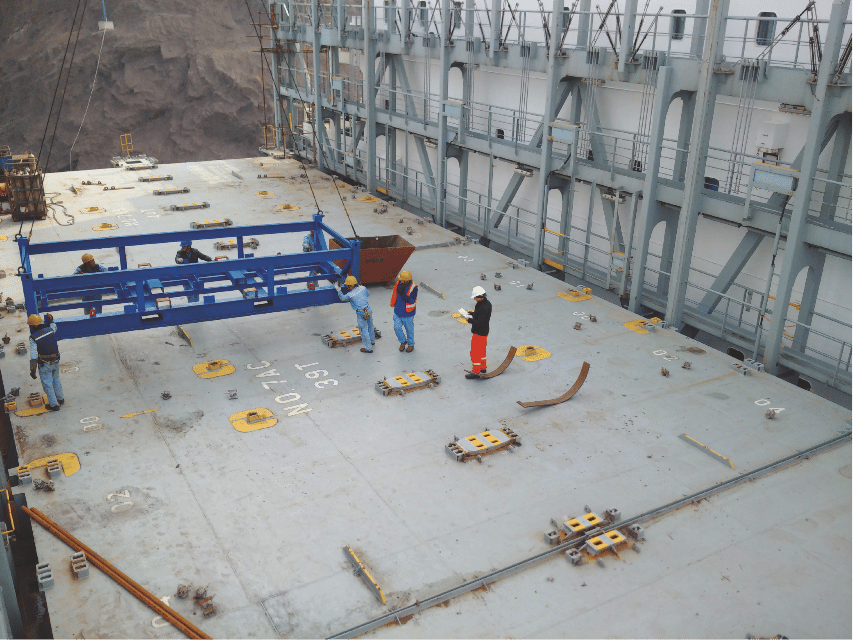 "And yet some operators are not able to accommodate the containerised trade that is available on the market because of a lack of capacity on board. This sounds like a waste to me," says Janne Suominen, Cargo System Development Manager at MacGregor. "The issue of under-utilisation of fleet capacity still seems to be an issue that is not so well-known or perhaps not discussed as much."
A container ship's capacity is measured by the number of its container slots. "However, this is not the whole picture," explains Suominen. "Slots may be available, but they are not able to be used because they may not suit the available mix of container sizes and weights. Therefore the cargo system is not efficient or flexible enough to accommodate the available containerised cargo trade. But there are ways to improve the situation."
Last year MacGregor officially launched its MacGregor PlusPartner concept, which is a forward-thinking approach to ship design that considers all parts of the cargo handling system as a whole. For existing ships, MacGregor is able to re-think the cargo system so that it can be used to its maximum capacity on a specific route. MacGregor appropriately calls this service a Cargo Boost.
The scope of a MacGregor Cargo Boost can vary from document updates to cargo system design and hardware, to a continuous cargo system Productivity Care package. This is also part of MacGregor's PlusPartner concept, which is always considered from ship's revenue perspective.
The process starts by studying the ship's cargo system with the customer and reviewing it against anticipated routes and cargoes.
Benefits of route-specific rules
In the past three years, new Class rules that consider route-specific cargo stowage have been introduced. Historically the industry has relied on lashing system calculations based on conditions in the North Atlantic. These were updated in 2012, but still based on unrestricted service in any sea environment. Since 2013, the new lashing rules consider route-specific lashing.
This allows ship operators to carry heavier containers higher in the stack if operating in calmer waters and provides a greater number of stowage options.
MacGregor is able to help shipowners and operators capitalise on the opportunities delivered by these new rules by accurately calculating a ship's route-specific cargo arrangements and therefore maximising the cargo-carrying capacity of each vessel on each route.
"If structural or engineering changes are needed, an ideal opportunity to carry out a Cargo Boost is during a ship's scheduled drydock," he notes. "An ideal period to start analysis and the evaluation process is about a year ahead of any work being carried out. Elements such as manual updates require no mechanical changes and can be undertaken at anytime."
MacGregor commonly looks to make improvements in under-performing cargo handling systems in the following areas: cargo securing manuals; calculations based on route-specific rules; maximising capacity by increasing stack weights (either by re-calculating according to latest rules or through engineering solutions); lashing arrangements; mixed stowage opportunities; and adaptations to lashing bridges.
Working in unison
With both the engineering and the software parts of a cargo system delivered by one supplier, the customer can be assured that all components of the upgraded cargo system work in unison. "Systems from different suppliers may be technically compatible, but might not perform optimally with each other, so their delivery from one supplier is another way to maximise efficiency.
"The recovery of the container shipping market will come from the combined efforts of many smaller factors," says Suominen. "For its part, MacGregor can deliver an optimised cargo system that is then able to maximise revenue potential, which is dependent on the number of payload containers that are carried versus operating costs."
Boosted container carriers
Container demographics are changing. In today's climate, operators need to be flexible enough to manage that change, but their vessels also need to be capable of accommodating it.
According to the Container Census report issued by shipping consultancy firm Drewry in July 2015, the biggest numerical growth, over 10 percent, was witnessed in the marine industry's 40ft high-cube (FEU) fleet of principally dry freight and reefer containers, as against five percent for the 20ft (TEU) counterpart.
By the end of 2014, the TEU fleet accounted for the majority of all maritime equipment for the first time. This development has not gone unnoticed. Shanghai-based shipping company,
China Shipping Container Line (CSCL) and UK ship management company V-Ships began to see that there were business opportunities available for 40ft containers, but not enough vacant slots for them. The issue was raised in a meeting between MacGregor and CSCL at the beginning
of 2015.
Realising possibilities
Three CSCL-owned 14,000 TEU container vessels, Jupiter, Venus and Mercury, originally built by Samsung Heavy Industries in 2011 and under long-term charter to V-Ships, were due to be drydocked in early 2016. The question was raised: could something be done to improve the earning capability of these ships?
With the drydock slots already booked, a second question was posed: could it be done at the same time to keep costs down and avoid additional vessel downtime?
Together with the owner and operator, MacGregor reviewed what kind of ship productivity improvement was possible and judged whether it was achievable.
This service was carried out under the umbrella of a MacGregor Cargo Boost, part of MacGregor's PlusPartner concept.
The importance of data
"To be able to come up with an accurate Cargo Boost proposal, MacGregor needed information about the current cargo mix and operating profiles, including route specific data," explains Atte Virta, Naval Architect for Container ship cargo systems at MacGregor. "Critical information that was used in the analysis comprised Baplie files, which indicate what containers are loaded on board the ship and where, along with container data, and other vessel loading data. Different options were presented and the customer was able to review them to find the best fit for its cargo profile and earning opportunities."
CSCL, the operator V-Ships and their joint venture company, China International Ship Management (CISM), participated in the upgrade process. CISM specialises in coordinating with shipyards and made the choice about which shipyard would be most suitable to carry out the work. China Shipping Industry Co ltd (CIC) was chosen.
"A three-party start-up meeting with MacGregor, CSCL and the CIC repair yard was a very efficient way to go through the planned proposals and for everyone to have their say and agree the on the steps that needed to be taken," he notes.
Atte Virta and Janne Suominen, also inspected the vessel prior to the work commencing.
A good result
The MacGregor Cargo Boost has delivered an additional payload capacity of 260 FEUs (equivalent to 585 TEUs) to each vessel. "We have been able to maximise the overall efficiency of the upgrades by carrying them out in combination with the ships' regular five-year dockings," says Captain Lu, General Manager at CSCL Stowage Planning Centre.
In addition to the extra payload capacity, "The Cargo Boost will give the vessels more operational flexibility," adds Captain Lu. "This helps us to adapt to changing markets.
"All vessels had their internal lashings converted to an external lashing arrangement. This delivered a much better loading profile. Further to that, lashing bridge extensions, commonly called 'mouse ears', were built behind each vessel's accommodation block in areas where there were no visibility restrictions.
Also, the latest route-specific rules were considered and Lashmate lashing calculation software was used to maximise the vessels' cargo system utilisation capacity," says Virta. "MacGregor was not only able to design upgrades that would best serve the operator's needs, but it was possible to realise them in a cost-conscious way," he notes.
MacGregor supplied the design and key components of the cargo system, as well as supervision. MacGregor also arranged all classification approvals and took responsibility for testing, commissioning and startup training for personnel. The ship's crew installed the new loose container lashings with guidance from MacGregor, while CIC shipyard took care of the steelwork
Essential local expertise
An essential part of the successful Cargo Boost was the presence of MacGregor's local personnel in China. "We were able to serve the customer locally without any delay, both in the preparations and during the production phase," says Daniel Wang, Quality Controller and Commissioning Engineer at MacGregor China. "We were there for the customer and to ensure that MacGregor's quality requirements were met at every stage of the process.
"The challenging one-month timeframe from order to delivery, to meet the pre-booked drydocking schedules, was possible because of MacGregor's dedicated experts and its agile, flexible process.
Depending on the delivery scope, the ideal lead-time from system decision to delivery is between one and three months. "We believe it pays off to spend as much time as possible making the right decision, so analysis and the evaluation of different Cargo Boost solutions should ideally occur about twelve months prior to the work being carried out," concludes Virta.
Further installations
More recently Seaspan Corporation, world's leading independent owner, operator and manager of containerships, has placed an order with MacGregor for a cargo system update of its eleven 10,000 TEU container vessels. Seven of the ships were returned to Seaspan from the bankrupt South Korean container carrier Hanjin Shipping and four of the ships are in final stage at the shipyard.
The work is being carried out under the MacGregor Cargo Boost service, which is designed to improve cargo carrying efficiency and the earning potential of existing container vessels. The upgrades include an individual plan for these vessels with focus on improving the vessel's earning potential resulting in efficient, modern and attractive fleet for today's challenging market. In addition to cargo efficiency upgrades, Seaspan also implemented other structural changes to improve the fuel efficiency as well.
Works on the ex-Hanjin vessels was started on 20th January 2017 at three repair yards in Zhoushan area, and the last vessel was completed by the end of March 2017. The remaining four ships were upgraded in April 2017.
"Market conditions and technology are always evolving; in this fleet upgrade programme, we have taken advantage of the latest technology to deliver more competitive ships for our clients. We trusted MacGregor because of our long co-operation and their ability deliver the overall cargo system upgrade from design and hardware to training and the software in the form of an Interschalt MACS3 loading computer," says Peter Jackson, Vice President, Projects and Technology at Seaspan.
"The configuration for each upgrade case may be different, but all are designed to maximise the vessel's earning potential and bringing those into par with newer vessels. It is a combination of mechanical and engineering solutions, together with software and trainings. The main target is to deliver greater cargo system flexibility to allow a wider range of containerised cargoes," summarises Leif Byström, Senior Vice President, Cargo Handling Division at MacGregor.