Work boat engine overhaul by Royston
Royston's specialist marine engineering team has recently completed engine repairs and a service overhaul onboard a tug boat operated by Peterhead Port Authority.
The 13m length Ugie Runner, which assists with vessel movements in and out of the Port of Peterhead and general harbour work, has had its Scania DI12 main propulsion overhauled by Royston engineers while in dock. This involved a full engine strip down with service work completed on essential parts.
The crankshaft was also removed, with the main bearing shells renewed, along with new cylinder liners and pistons as part of a rebuild schedule that featured engine run up and full testing.
The project demonstrates UK-based Royston's ability to overhaul diesel power plants of any size, on any type of vessel, with work carried out by specialists supported by a fully equipped marine engineering workshop and repair facility in Newcastle upon Tyne.
The company works on a wide range of engine types, undertaking marine engineering jobs for UK and international fleet owners and operators.
Shaun Cairns, the company's Operations Manager, said: "This latest contract shows our strong experience and multi engine capability in all round marine engineering and propulsion systems diagnostics and repair work. Regardless of a vessel's location and the condition of its power units, it proves that we can deliver a fast, efficient service together with extensive expertise."
John Forman, harbour master at Peterhead Port Authority, said: "We are delighted to maintain our relationship with Royston. Their familiarity with both the engine type and these type of vessels means that the work was carried out efficiently and speedily, enabling the tug to return to operations quickly and on schedule."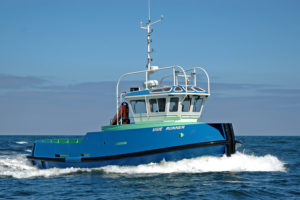 Royston has completed engine repairs and a service overhaul onboard the Peterhead Port Authority's Ugie Runner