SGS reseats shifted tailshaft
A client contacted Subsea Global Solutions (SGS) requiring underwater support with their starboard tailshaft during the vessel's port call in Puerto Seybaplaya, Mexico. The client indicated that the tailshaft had shifted approximately 200mm aft when the ship's crew was doing maintenance on the shaft coupling. It resulted in the aft water seal losing contact with the liner, causing large amounts of water ingress into the stern tube. Local divers were called in to seal the aft seal housing with rags and underwater epoxy, temporarily stabilising the water ingress.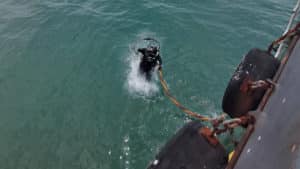 The client ordered new OEM seals for both the forward and aft systems to allow for complete replacement. In preparation for the underwater aft seal replacement, the SGS Transhab system and SGS commercial diver technicians were mobilised to the job site. Once onsite, the commercial dive team confirmed the tailshaft had slid  approximately 200mm aft, which required it to be pulled forward and re-coupled before the tailshaft seals could be replaced.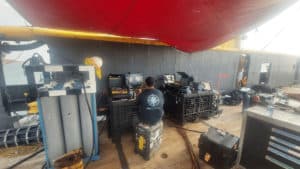 Solution 
The SGS centralised Technical Repair Department as an OEM service provider worked closely with the client to develop a unique tailshaft re-positioning procedure. This included both the underwater and internal works, followed by SGS'standard underwater seal replacement procedure. The work was expected to be completed in five 12-hour shifts with six commercial diver technicians and one project manager from SGS Vancouver, SGS Houston, SGS Long Beach, SGS Port Angeles, and SGS Tampa.
SGS's internal team began by installing hold back clamps on the forward seal housing while the dive team began removing the rope guard. The tailshaft was secured internally by a specialised clamp while the propeller, tailshaft, and seal housing was prepared for repositioning. The repositioning of the tailshaft was a critical step as it required all parties to work in unison for a successful outcome. SGS's diver technicians supported the coupling of the shaft and the repair of the damaged controllable pitch mechanism internally. The shaft was successfully returned to its original position without any risk of water ingress to the vessel. With the tailshaft back in position, the aft and forward seal systems could be reinstalled. After the system was pressure checked, it was thoroughly flushed and readied for testing. The controllable pitch system was then tested and calibrated and sea trials were performed without any issues.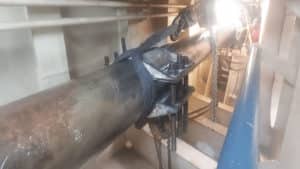 Conclusion 
This complex underwater repair was completed to the client's satisfaction in five shifts. Class was also very impressed, as to their knowledge this type of repair had not been attempted before without drydocking. This repair was a great collaborative effort onsite highlighting the ingenuity of the SGS commercial diver technicians. Having a centralised Technical Repair Department makes a difference when managing complex underwater repairs on a global scale, as it allows SGS to ensure Clients, OEM, and/or Class receive the same familiar experience from SGS they are used to, regardless of where the project is taking place.